Luncheon-debate held with Koen Doens, Director General for International Partnerships of the European Commission
Last Tuesday, March 28th, the Official Spanish Chamber of Commerce in Belgium held a new lunch-debate in the framework of its "Business Circle" forum, in which the Director General for International Partnerships of the European Commission, Koen Doens, spoke about "a renewed partnership between the EU and Latin America and the Caribbean under the Global Gateway Strategy".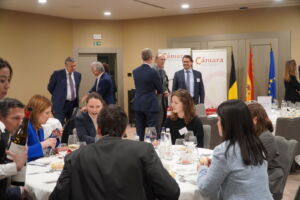 After the welcome cocktail, the President of the Chamber, Pablo López-Álvarez, opened the lunch giving way to the Ambassador Permanent Representative of Spain to the European Union, Marcos Alonso. During his introduction, the ambassador referred to the war in Ukraine as an event that has revealed the need for greater efforts to unite the world.
In this regard, Alonso spoke of the Global Gateway Strategy, which seeks to establish strong international links in areas such as digital and the environment and described Director General Doens as "the ideal person" to lead this transformation.
Doens then took the floor and began his speech by recalling the thesis of Francis Fukuyama's "The End of History", who postulated in 1992, after the fall of the USSR, that, with no opposition to the Western bloc, all the countries of the world would eventually converge around the values of liberal democracies.
Multipolar world
Today "Fukuyama's premise does not hold", Doens asserted, stating that the crisis in Ukraine and the drift in China's international policies are clear evidence that "we live in a multipolar world". In addition to this, events such as the coronavirus pandemic have demonstrated the "fragility of the current international system", and strengthening it is one of the Commission's priorities.
In this context, the Global Gateway strategy aims to be the roadmap for strengthening international relations from the European perspective. According to Doens, "Europe has to adjust its way of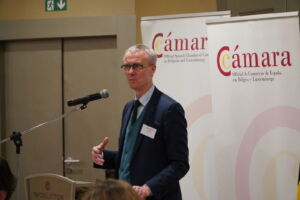 doing and working" when it comes to strengthening ties with different regions and cultures. In addition, the Director-General stressed the vital importance of involving the private sector, as it will be a "key player" in this transformation.
The Global Gateway strategy is currently under development and EU member states will define its content "in conversations over the next two years". "If we don't do this, Europe could start to fall behind" in the global landscape, Doens warned.
On a more practical level, he said that specific packages of measures are being worked on for regions such as Asia, Africa, Latin America and the Caribbean within the Global Gateway. In the same vein, he gave specific examples of cooperation projects in countries such as Colombia and Chile.
At the end of the presentation, there was an extensive round of questions in which topics such as the debate on how to maintain the balance in relations between Europe and Latin America or the possibility of exporting European SMEs to other regions to generate synergies arose.