Luncheon-debate with Margaritis Schinas, European Commission Vice-President for Promoting our European Way of Life
Last 27th September, the Official Spanish Chamber of Commerce in Belgium and Luxembourg held a new luncheon debate within its tribune "Business Circle", in which the Vice-President of the European Commission for the Promotion of Our European Way of Life, Margaritis Schinas, spoke about how to manage complexity in an even more complex European Union.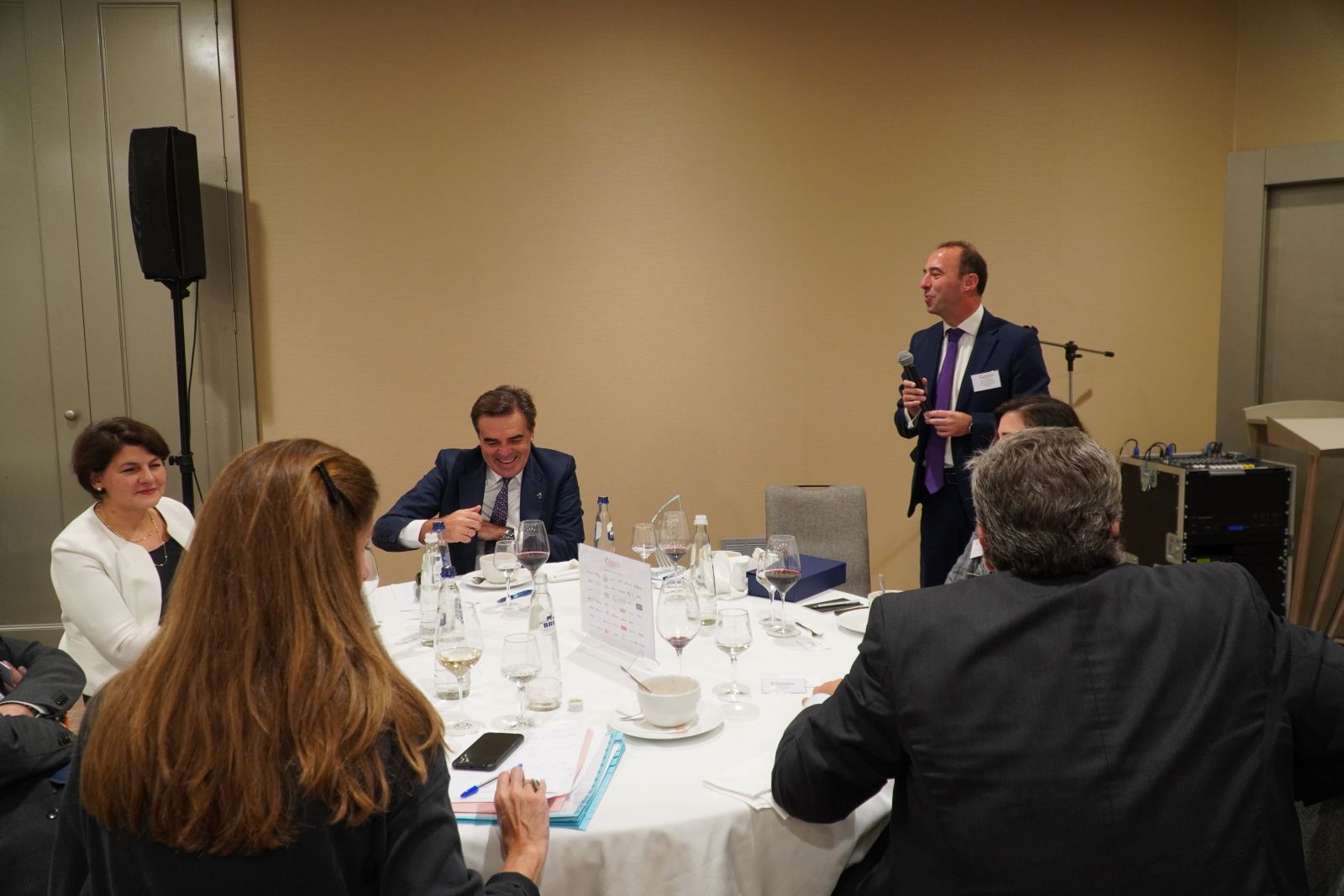 The event was inaugurated by the President of the Chamber, Pablo López-Álvarez, who thanked all those present for their attendance and presented Schinas' vast career.
"Europe has been fighting crises for more than twelve years", Schinas reminded the different actors gathered at the event. Since the euro crisis, the EU-27 have faced uncertainty, Brexit, terrorism… and throughout that time they have shown "much more strength and resilience" than their critics expected.
The scenario that has followed the arrival of the coronavirus in our lives is the same, Margaritis explained. Inflation, energy, the food crisis, or disruptions in global supply chains reassure us that Europe's age of innocence is over. Now, the Commission seeks to lead member states "into the era of trust, of setting an example, of becoming a powerful actor" vis-à-vis third parties.
European recovery fund
Over the past three years, the EU executive has shown that it can act more quickly and has activated mechanisms that were unimaginable until now: temporary protection for Ukrainian refugees, a European recovery fund, and funding for the purchase and delivery of arms to Ukraine. "As Macron said, it is time to be the Europe that protects and empowers", Schinas highlighted.
After the presentation, the audience had the opportunity to ask questions and engage in a direct dialogue with the Commission Vice-President. During the Q&A, topics such as the lack of qualified staff or digital skills in today's labour market, the security of investing in certain sectors threatened by political issues, or the integration of mental health in the Commission's plans for building a European Health Union, among others, were addressed.
On behalf of the sponsor of the debate, Meglena Mihova, Managing Partner of EPPA, thanked the Chamber for the opportunity to bring together different actors to talk about strategies to maintain and attract more innovation and investments to Europe and, to Margaritis, to see how companies are doing in a moment of very complex geopolitical crisis that threatens the fundamental values of the EU.
From CámaraBeLux, we also want to show a special thanks to Bodegas San Valero, whose wines could be tasted by all the attendees, which made this luncheon-debate a very successful one.
https://e-camara.com/web/wp-content/uploads/2022/09/DSC02332-1.jpg
610
1600
Cámara Oficial de Comercio de España en Bélgica y Luxemburgo
https://e-camara.com/web/wp-content/uploads/2020/04/Logo-Web1-300x115.png
Cámara Oficial de Comercio de España en Bélgica y Luxemburgo
2022-09-28 12:15:45
2023-02-10 10:49:37
Luncheon-debate with Margaritis Schinas, European Commission Vice-President for Promoting our European Way of Life