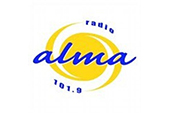 With the objective of promoting and spreading the Chamber's and its companies members' activity in Belgium, the Chamber will start a new collaboration with Radio Alma. The Chamber will count on a weekly program in which the members who are interested in participating will have the chance to speak to the listeners and comment their professional experience in the country.
Radio Alma, the "Mediterranean frequency", was born in 1986 and it is a multicultural radio whose objective is to inform, integrate and encourage the contact between the different cultures which live together in Brussels with a collaboration and participation spirit. This radio addresses particularly the South European and Latin American communities; this is the reason why, apart from French, there are programs in Spanish, Portuguese, Greek and Italian. These programs are broadcasted on 101.9 FM or you can listen to them online, in http://www.radioalma.be/.
Radio Alma gives businesses an opportunity to be announced on their programs. Check the prices here.
We encourage our members to participate in this program and please don't hesitate to contact the Chamber if you are interested in: info@e-camara.com.