NH Hotel Group receives FECECA Award for its commitment to the development of Latin America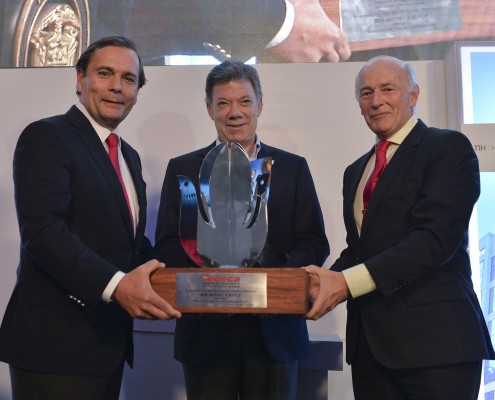 Taking advantage of the presentation of the Company in Colombia, the Federation of Spanish Chambers of Commerce in America (FECECA), whose task is to promote the development of economic, commercial, cultural and scientific relations between Spain and Latin America. The president, Rafael Roldan, granted the award for their commitment in the development of Latin America to NH Hotel Group. This prize is a recognition to boost the internationalization of the company and its commitment to excellence in service worldwide.
NH Hotel Group, a multinational operator with nearly 400 hotels and 60,000 rooms in 29 countries in Europe, America and Africa, celebrated its arrival in Colombia with the relaunch of 15 hotels located in major cities.
The presence of NH Hotel Group in Colombia is the result of the acquisition of the Royal Hotels chain earlier this year, which had 20 hotels in Colombia, Chile and Ecuador, which has followed a process of systems integration, services and brand image, which has been brought together in record time and under the NH Royal concept the best service, excellent location, local culture and knowledge, international experience, latest technology and awesome cuisine.
In this way, Colombia becomes the strategic country for the development of NH Hotel Group in Latin America where the multinational already runs 57 hotels and over 10,000 rooms in 10 countries.
The launch, held at NH Collection Royal Teleport, was chaired by the President of Colombia, Juan Manuel Santos Calderon, Secretary General of the World Tourism Organization, Taleb Rifai and the Minister of Commerce, Industry and Tourism of Colombia, Cecilia Alvarez-Correa, among other authorities, in addition to strong representation of Colombian society and the business world and the national and international tourism.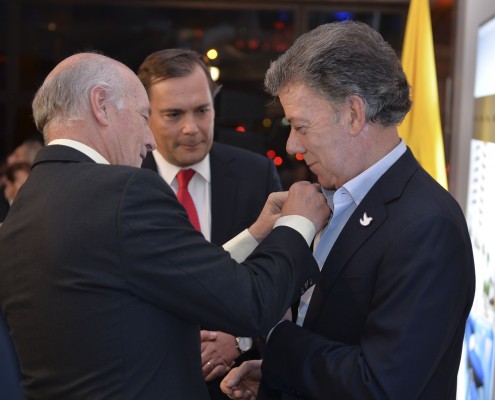 Federico J. Gonzalez Tejera, CEO of NH Hotel Group, said that "Colombia is an increasingly attractive destination and our desire is to continue growing in this country, an active part in the development of their society and contributing our knowledge and experience to drive the development and evolution of tourism. It is a strategy to strengthen our market presence in the region and we are excited to offer our solutions, which adapt to the way people live, work and interact with customers, creating a memorable experience".
Meanwhile, in Europe, NH Hotel Group is one of the continent's largest hotel groups, with 325 hotels located in 17 countries. Spain, Italy, Germany and Holland are just some of the European countries where the Group has a position in the sector, taking all leadership positions in the urban segment.
https://e-camara.com/web/wp-content/uploads/2015/09/100915NHHotel04EH-e1442914130343.jpg
659
1000
Cámara Oficial de Comercio de España en Bélgica y Luxemburgo
https://e-camara.com/web/wp-content/uploads/2020/04/Logo-Web1-300x115.png
Cámara Oficial de Comercio de España en Bélgica y Luxemburgo
2015-09-22 10:17:22
2016-02-29 09:07:00
NH Hotel Group receives FECECA Award for its commitment to the development of Latin America