The Chamber continues its collaboration with Antwerp University within the EYE programme
On the 20th of October, the Chamber presented the workshop "Test your business idea with the EYE programme" to the students of the Spanish course for business and economics at the Antwerp University.
This session was organised in the framework of the annual collaboration between the Chamber and the University and aims not only to meet the students and discuss about entrepreneurship, but also to unlock their potential for innovation and help them to develop a business plan.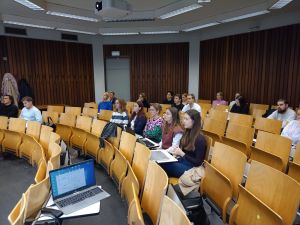 For one and a half hour, the students had the possibility to create their own "start-ups" and receive recommendations from the project manager of the Chamber on how to develop their business plans and test their entrepreneurial idea through the European programme Erasmus for Young Entrepreneurs.
The Chamber thanks once again the invitation of the University of Antwerp, and specially to Lieve Vangehuchten, Head of Spanish Business and Professional Communication at the Institute of Academic and Professional Communication (IPAC) of the University of Antwerp and looks forward to continuing collaborating with them to promote entrepreneurship among university students.
If you would like to know more about the programme Erasmus for Young Entrepreneurs, please contact Noelia Sánchez: erasmus4youngentrepreneurs@e-camara.com
https://e-camara.com/web/wp-content/uploads/2022/10/IMG_20221020_130357709.jpg
617
1600
Cámara Oficial de Comercio de España en Bélgica y Luxemburgo
https://e-camara.com/web/wp-content/uploads/2022/05/Camara-logo-web-300x123.png
Cámara Oficial de Comercio de España en Bélgica y Luxemburgo
2022-10-24 15:39:40
2022-10-25 10:17:10
The Chamber continues its collaboration with Antwerp University within the EYE programme