The Chamber participates in the 30th EYE Networking Meeting
The 30th Networking Meeting of the Erasmus for Young Entrepreneurs programme was held on 7 and 8 March at the City of Culture of Galicia in Santiago de Compostela. The meeting brought together the intermediary organisations involved in this EU-funded initiative, for which the Chamber is a local contact point for entrepreneurs in Belgium and Luxembourg.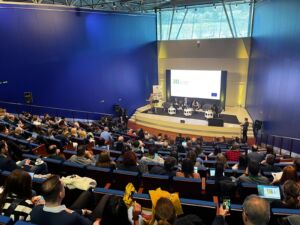 During the event, the impact of the programme was analysed and the new priorities of the new EYE cycle, which will last 4 years, were announced. These priorities are digitalisation and sustainability, within the framework of the new European Single Market programme.
The first day was attended by the Mayor of Santiago, Xosé Sánchez Bugallo, and the President of the Chamber of Commerce of Santiago de Compostela, María Pais Fajín, as well as representatives of DG GROW (Directorate General for Internal Market, Industry, Entrepreneurship and SMEs) and EISMEA (European Innovation Council and SMEs Executive Agency) of the European Commission.
On the second day, coinciding with International Women's Day, a special session on women entrepreneurs was held to analyse the current challenges and the future of female entrepreneurship.
All those who manage an SME in Belgium and Luxembourg can participate in the EYE programme as a host entrepreneur, receiving a new entrepreneur for 1 to 6 months with whom to exchange ideas and expand their network of contacts.
In turn, the new entrepreneur has the opportunity to test his or her business idea in-situ, receiving funding from the programme for his or her mobility and being supported by an experienced entrepreneur.
For more information on how to participate in this programme, please click on the following link.