The Chamber participates in the presentation of the FEDECOM Annual Award to Técnicas Reunidas in UAE
The Federation of Official Spanish Chambers of Commerce in Europe, Africa, Asia and Oceania (FEDECOM), of which the Official Spanish Chamber of Commerce in Belgium and Luxembourg is a member, presented its Annual Award to Técnicas Reunidas on Wednesday 2 February in Dubai.
With this recognition, FEDECOM distinguishes each year a Spanish company that stands out for its commercial activity and international profile in one of the member countries of the Federation.
The award ceremony, which took place during the Gala Dinner of the Spanish Chamber of Commerce in the United Arab Emirates, was attended by Reyes Maroto, Minister of Industry and Xiana Méndez Secretary of State for Trade. The Minister presented the award to the company in a ceremony that was the last event of the activities to commemorate Spain Day at Expo Dubai 2020. The Minister congratulated Técnicas Reunidas for the FEDECOM Award and highlighted the strong presence of Spanish companies, both large and small, in practically all sectors of a market as competitive and demanding as the Emirati one. He also highlighted the prestige and esteem that the Spanish business sector enjoys among local companies and governmental institutions.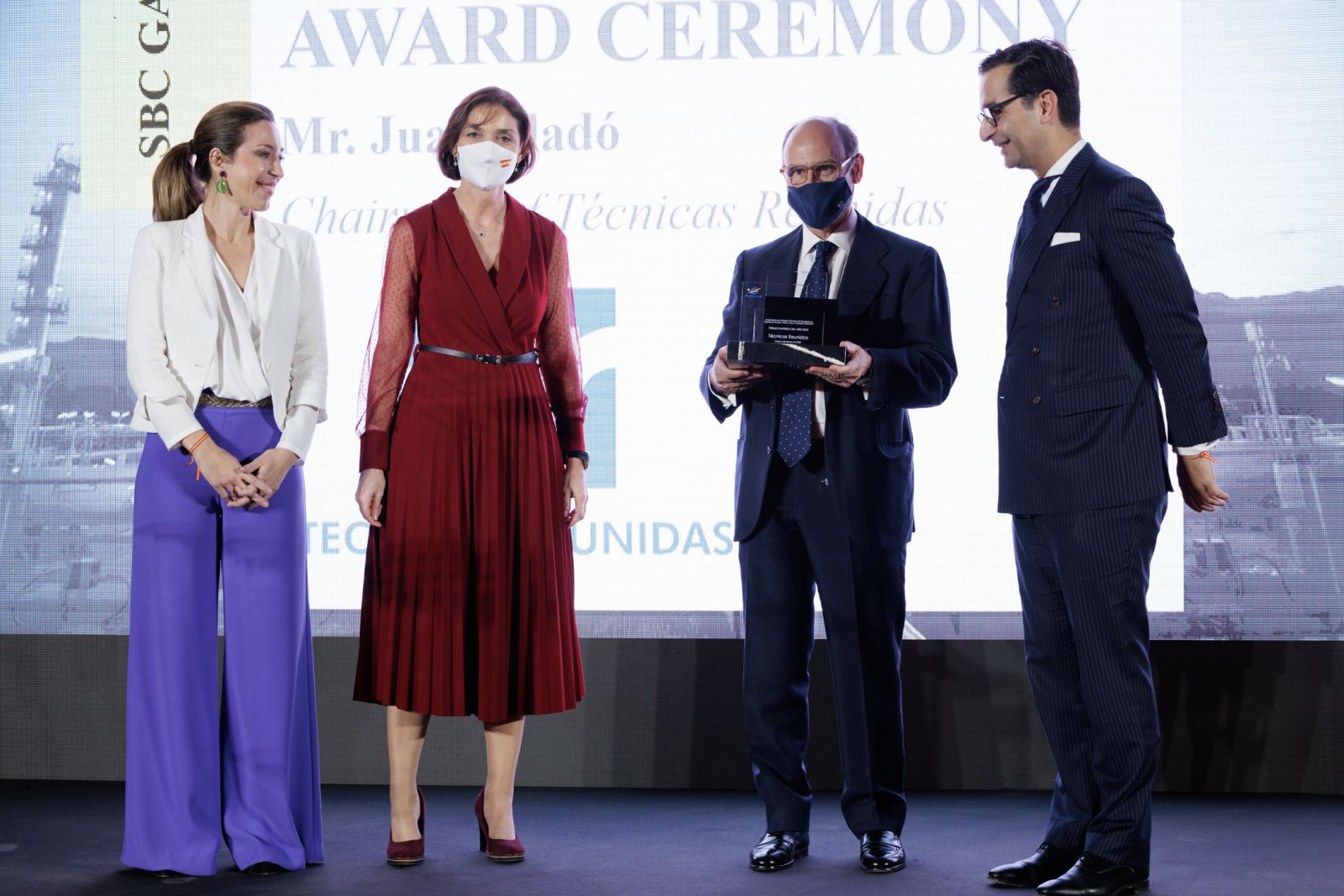 Representing the Official Spanish Chamber of Commerce in Belgium and Luxembourg, the event was attended by its president Pablo López Álvarez and its secretary general Marta González Benguria.
Técnicas Reunidas is one of the most important Spanish companies in its sector on an international scale, with a presence in 25 countries and a track record that totals more than 1,000 industrial plants in its 61 years of experience. In November 2021, Técnicas Reunidas and its Emirati partner Target won a $950 million contract in Abu Dhabi for the design and execution of the onshore facilities required to process gas from the Dalma field on the country's northwest coast.
Técnicas Reunidas' activity is mainly focused on the development of engineering projects, design and construction of industrial plants and technology for the energy transition, with leading positions in clean fuels, sustainable chemistry and natural gas, and solutions linked to the circular economy and decarbonisation, such as CO2 sequestration and capture, renewable hydrogen, biofuels, waste recovery, etc., initiatives that make its headquarters in Spain a centre of excellence in engineering.
The Minister of Industry presented the FEDECOM Award to the President of Técnicas Reunidas, Juan Lladó, who thanked her "in recognition of the company's long history in international markets, the contribution of its initiatives to our country's export capacity and its constant incorporation of Spanish companies in the development of its projects".
During the award ceremony, the President of FEDECOM, Eduardo Barrachina, stressed that "when we think of the United Arab Emirates we think of prosperity, a prosperity in which so many Spanish companies have played an important role. None more so than Técnicas Reunidas, tonight's winner".
https://e-camara.com/web/wp-content/uploads/2022/02/0J5A0699.jpg
1067
1600
Cámara Oficial de Comercio de España en Bélgica y Luxemburgo
https://e-camara.com/web/wp-content/uploads/2022/05/Camara-logo-web-300x123.png
Cámara Oficial de Comercio de España en Bélgica y Luxemburgo
2022-02-04 15:15:00
2022-06-02 21:01:58
The Chamber participates in the presentation of the FEDECOM Annual Award to Técnicas Reunidas in UAE