On October 9th, the Embassy of Spain in Luxembourg celebrated the National Holiday. The reception, which took place in the Cercle Cité of Luxembourg, was sponsored by the Official Chamber of Commerce of Spain in Belgium and Luxembourg, Bankinter, Banca March, Renta4, CAF, LaLiga, Adepa and PwC.
The event counted, among others, with the presence of representatives of the Luxembourg Government, members of the international diplomatic corps, officials of the European institutions and Spanish residents of the Grand Duchy.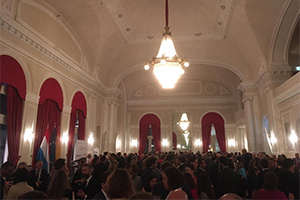 The Ambassador of Spain in Luxembourg, Hon. Mr. D. Bernardo de Sicart Escoda,thanked the attendees for their participation in the National Holiday, and the Chamber and the sponsoring companies for their collaboration in organizing the event.
José Luis Rodriguez Álvarez, Vice President of the Chamber, attended the reception in the company of other members of the Board of Directors.
Hispania Brussels delighted the attendees with a Spanish haute cuisine catering.
The Embassy of Spain in Luxembourg and the Chamber are grateful for the collaboration of the sponsoring companies: