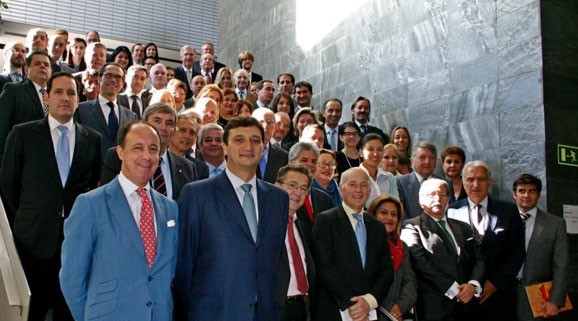 The Official Spanish Chambers abroad gathered in Madrid
The Official Spanish Chamber of Commerce in Belgium and Luxembourg participated in the meeting of Spanish Chambers abroad that took place in Madrid on 6 and 7 November, gathering a total of 58 members from Spanish Chambers abroad. The meeting was called by the "National Council" which will be renamed to "Chamber of Spain" in a near future. Besides the Spanish Chambers, 17 Chambers from American countries, 7 from Europe and 4 from Asia gathered together in order to strengthen ties and study future ways of coordination and cooperation.
The presentation of the meeting was given by the general chief of the Council, Mr Javier Carretero, who explained the attendees the highlights of the new Law of Commercial Chambers, pointing out the challenges that the new Chamber of Spain -that will be set up on 19 November- will have to face.
Once the presentation was closed, a round table was organized with the purpose of exchanging experiences and point of views between the Chambers both in Spain and abroad. The roundtable was conducted by the General Secretary of the Council, Mrs Carmen de Miguel, and in it, took part the General Manager of the Spanish Chamber in México, Mrs Joana Torrents, the General  Secretary of The Spanish Chamber in Belgium and Luxembourg, Mrs María Catalán, the General Manager of the Chamber of Almería, Mr Fernando Ruano, as well as the internalization and Sales Manager of the Chamber of Castellón, Mr Joaquín Andrés.
The chairman of the National Council, Mr Manuel Teruel closed the first day of the meeting together with the chairman of FECECA, Rafael Roldán, the chairman of FEDECOM, Mr Juan Rodríguez-Villa and the Managing Director of ICEX, Mr Francisco Javier Garzón.
In the second day of the meeting, member of different departments in the Council discussed the project and services the National Council has channeled through a National Chamber Network. The areas presented, besides aspects related to corporative and marketing proposals, were International Commerce, Certification Service, Formation and Employment, Arbitrage, Retail Commerce and Tourism, Funding and Innovation.
For all of the Spanish Chambers abroad interested in the programs and projects before exposed, a networking was arranged by members from the Council who explained further details about them.
Source: High Council of Chamber of Commerce, Industry and Navigation of Spain.
https://e-camara.com/web/wp-content/uploads/2014/11/camaras-oficiales.jpg
385
578
Cámara Oficial de Comercio de España en Bélgica y Luxemburgo
https://e-camara.com/web/wp-content/uploads/2022/05/Camara-logo-web-300x123.png
Cámara Oficial de Comercio de España en Bélgica y Luxemburgo
2014-11-07 12:58:21
2016-02-26 11:43:15
The Official Spanish Chambers abroad gathered in Madrid