Last 6th of March, the Official Spanish Chamber of Commerce in Belgium and Luxembourg organized, in collaboration with its member BLAW & TAX, a conference about the "Spanish Taxes for Individuals Living Abroad" at its headquarters in Brussels. The event gathered representatives of different Spanish and Belgian companies, members of the Chamber, representatives of European Institutions and Spanish regional delegations.
The conference was run by Inmaculada Pineda and Elsa Ochoa, partner and tax advisor of BLAW & TAX, a firm specialized in international taxation and legal-tax consulting at national and international scope related to corporate aspects.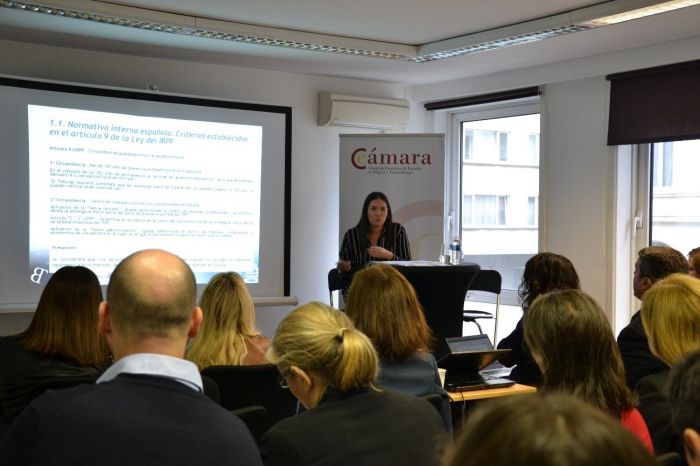 The conference focused on two main issues: fiscal residency and its implications, regarding the taxation and fiscal benefits provided by the Spanish domestic legislation.
First, the different criteria established in the LIRPF for the determination of tax residency in Spain were presented, a fundamental element for determining the tax obligations of natural persons in the country.
Thus, the Spanish regulation incorporates the criteria of residence, location of economic interests and the presumption of tax residency in case the spouse or the children are tax residents in Spain.
Then, the speaker made reference to the situation of tax havens and the rule of "tax quarantine", according to which taxation continues to pay taxes in Spain during the transfer year and the following four years.
They described two basic circumstances that determine fiscal residence: having had a presence in Spain more than 183 days during the year or that the center of economic or professional interests is in Spain; both circumstances are recidivists.
Afterwards, Elsa detailed the conventions to avoid double taxation signed by Spain. Specifically, the conference focused on the OECD Model Convention. These conventions are of great importance because they have primacy over Spanish internal regulations. Likewise, special cases were discussed about diplomats, officials and personnel at the service of the European Union.