On June 16th, 17th and 18th the Official Spanish Chamber of Commerce in Belgium and Luxembourg organized the EU Funding Week for non-profit organizations – Project Management in collaboration with Fondos Europeos. This webinar was destinated for beginners and aimed to give an introduction to all the relevant aspects of EU projects with an special focus in Non-Profit Org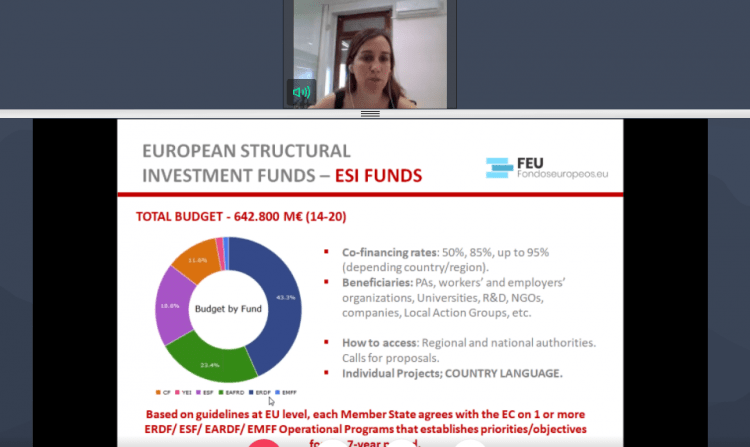 anizations. The audience featured a great diversity of organizations with consultancy firms, civil society organizations or small business.
During the first session the attendants had the opportunity to have a quick introduction to the EU funding dynamics by understanding what is an EU project, the differences between shared/direct/indirect management. Speakers gave an approximation on what the next European strategy for the 2021-2027 period will be with topics such as recovery funds, green deal, etc. Despite the next MFF has not been approved yet, some general lines could be given as well as an update on the current status of the negotiations.
On the second day of the workshop, attendants learnt how to get involved on the different EU funded projects by applying for the correct fund, choosing the ideal call, planning activities and budget or joining a consortium. The need of geographical balance in consortium, the importance to define clearly the different roles or the financial split among members of the consortiums were also highlighted. Finally the different online platforms and tools to apply for EU projects or join consortiums were also explored.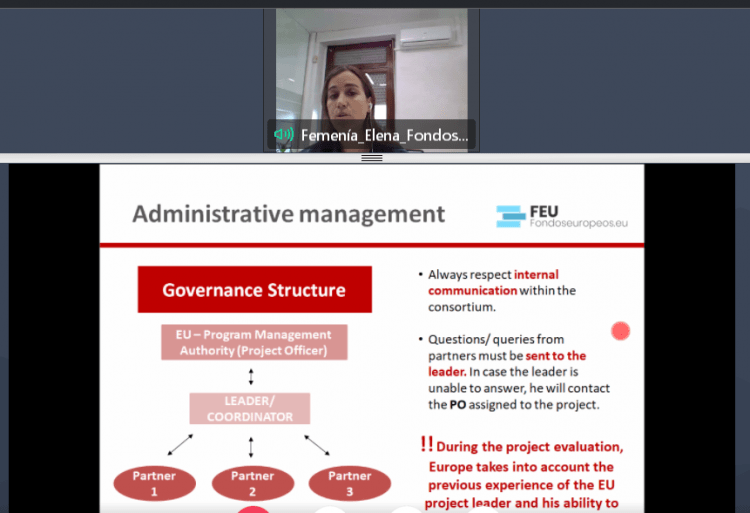 Finally, on the last session of the webinar, the audience had the opportunity to know more in detail what the management of EU projects looks like by focusing on the financial, administrative and communication sides of the project management as well as the due legal framework for the different phases. All those aspects were explored based on real cases in different funds by exploring the different milestones, key performance indicators (KPI), deliverables, etc.. And last but not least, attendants learned to deal with difficult situations that may occur within an EU project management or in a consortium as well as some tips and tools were given to solve this kind of situations.
During the conference, the participants were able to raise their doubts about the exposed information. The doubts were solved on a permanent basis by the speakers and were both written down or spoken out loud.
From the Official Chamber of Commerce of Spain in Belgium and Luxembourg we want to Fondos Europeos for their presentation and dedication, as well as the participants for their presence.