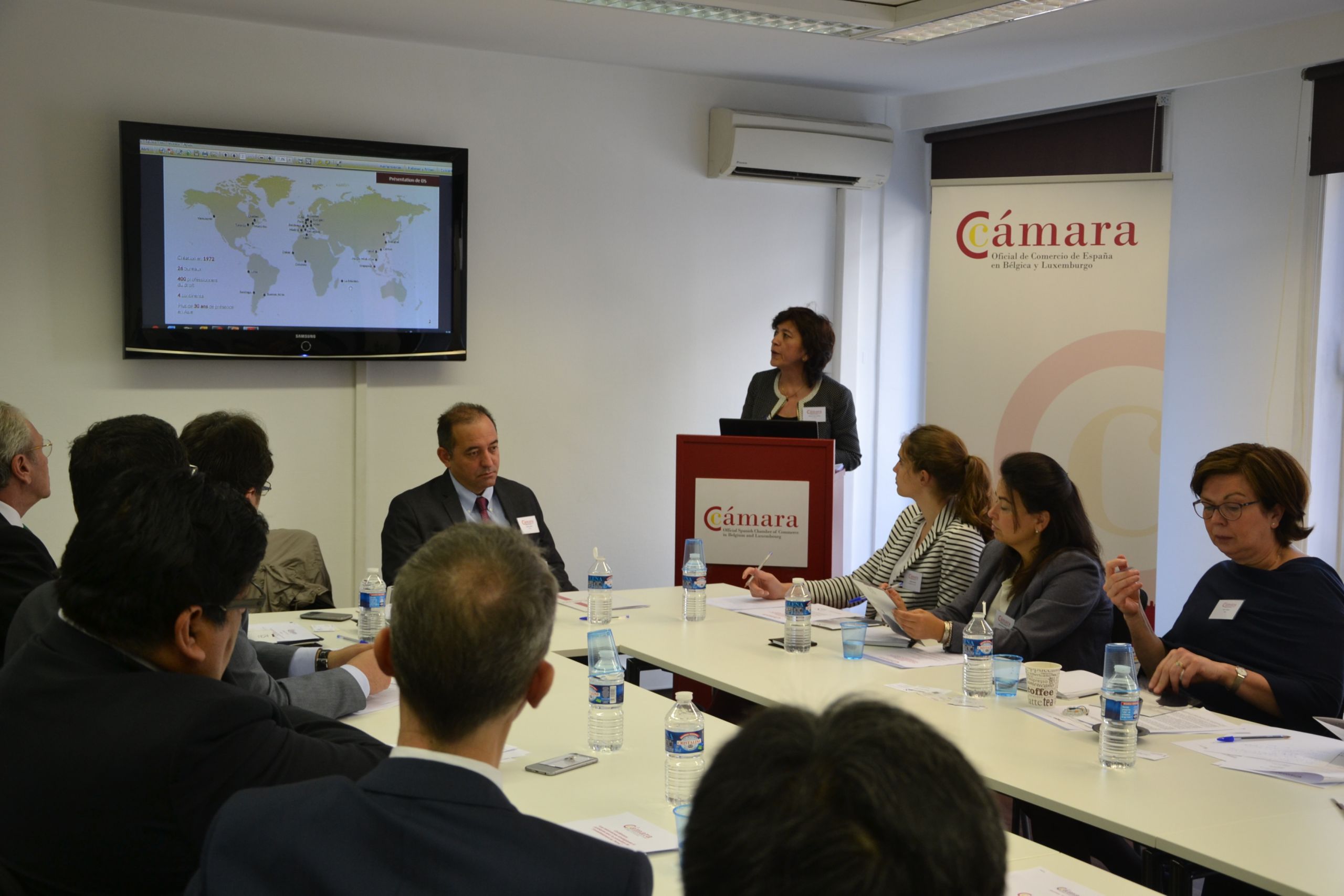 Conference "strategic and legal mechanisms for promoting private investment in Peru"
Last June 14th, the Chamber organized, in collaboration with its member DS Avocats and the firm Invertir, a conference about "strategic and legal mechanisms for promoting private investment in Peru". The event was attended by Mr. Gonzalo Gutiérrez, Ambassador of Peru before the European Union, the Kingdom of Belgium and the Grand Duchy of Luxembourg, representatives of European Institutions and several Spanish, Peruvian and Belgian companies, as well as some of the Chamber's members.
To begin with, Gonzalo Gutiérrez, Ambassador of Perú before the EU, started his intervention by thanking the attendees' participation and the Chamber's efforts to organize such an event. To continue, a brief introduction on the close ties between his country and Europe was made, as a factor to explain how Peru has multiplied its trade by 10 during the last few years, the country's GDP has increased by a rate close to 6%, poverty has been reduced from 58% to 22% and the middle class has grown an 18%.
The Ambassador also highlighted Spain as an example on telecom, mining and financial investments. To conclude, trade and investment were remarked as the fuel for development and growth in Peru during the next 20 years.
Afterwards, Daniel Córdova, CEO of Invertir, gave a speech on "the mechanisms of Public Works Tax Deduction and others to promote private investment". Among the many business opportunities in the country, he emphasized those found at the transport, energy, health and telecom sectors. He also underlined, however, the water and mining sectors, since a third of the population does not have access to drinking water or education. As advantageous assets for investments made in Peru, he mentioned stable prices, a remarkable reduction on inflation and the fact that for the last two decades the country has experienced the highest GDP growth in Latin America.
Moreover, he explained the reasoning behind Public Works Tax Deductions for which the private sector invests on public works of their choice to promote the country's development. To conclude, Mr. Córdova emphasized the healthy performance of the Peruvian economy and the many opportunities provided for companies.
Finally, Patricia Cuba-Sichler, Lawyer Counsel at DS Avocats, manager of the Desk for Latin America and Managing Partner at DS Lima, spoke about general concepts on corporate and tax law for firms to invest or create a subsidiary in Peru. According to Cuba-Sichler, Peru offers a series of advantages; such as its economic openness and its dividend repatriation, among many others. In addition, the Peruvian Constitution establishes the equality of enterprise -be it foreign or local companies- when it comes to investing in the country and there is a serious political commitment to extinguish the many infrastructural deficiencies.
The conference was held in a participative atmosphere, thanks to which all the attendees had the opportunity to pose several questions to the lecturers and interact with them.
In collaboration with:
https://e-camara.com/web/wp-content/uploads/2017/05/DSC_0150-scaled.jpg
1707
2560
Cámara Oficial de Comercio de España en Bélgica y Luxemburgo
https://e-camara.com/web/wp-content/uploads/2022/05/Camara-logo-web-300x123.png
Cámara Oficial de Comercio de España en Bélgica y Luxemburgo
2017-06-14 13:18:22
2017-06-14 15:44:57
Conference "strategic and legal mechanisms for promoting private investment in Peru"