Last 27th of June, the Official Spanish Chamber of Commerce in Belgium and Luxembourg celebrated its General Assembly Meeting for the year 2018. The meeting took place at the Hotel NH Collection Brussels Grand Sablon and was attended by more than forty representatives of associated companies.
The Ambassador of Spain in Belgium, Ms. Beatriz Larrotcha Palma, and the Ambassador of Spain in Luxembourg, Mr. D. Bernardo de Sicart Escoda, both presidents of Honor of the Chamber, presided over the Assembly. The Economic and Commercial Counselor of the Embassy, Ms. María Palanca Reh, also attended the meeting.
At the beginning of the Assembly, the President of the Chamber, Mr. Juan Rodríguez-Villa Matons, thanked the members for their assistance and highlighted the importance of the support that the Chamber receives from the Spanish public administrations, and in particular from the Embassies of Spain in Belgium and Luxembourg. After this introduction, the word was given to the Secretary General of the Chamber.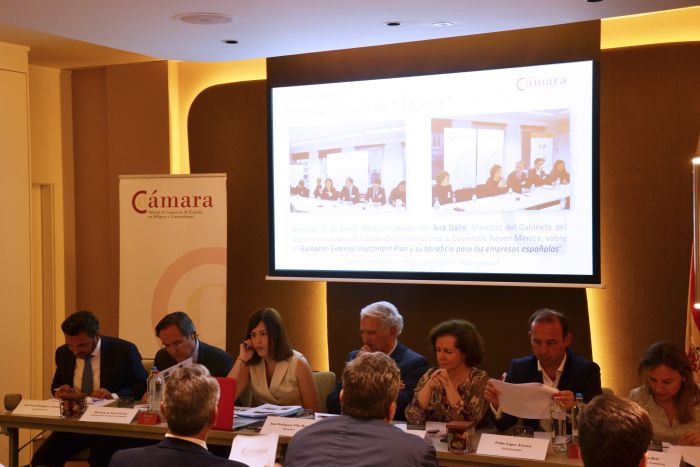 Ms. María Catalán set the agenda of the Assembly and afterwards summarized the main activities and events organized by the Chamber during 2018. She also presented the programs managed by the Chamber such as the Erasmus for Young Entrepreneurs, ReActivate, EmprendeBelux and EmpleoBelux.
Then she presented the figures corresponding to the income and expense accounts, the income statement and the balance sheet for the 2018 financial year. After the approval of the annual accounts for the year 2018 and the Board of Directors' management, the last point on the agenda, corresponding to the vote to fill the vacancies in the Board of Directors.
After a brief presentation of the ten candidates, the participants proceed to the vote, and the following members of the Chamber were elected to the Board of Directors  for a period of three years:
Iberdrola, represented by Eva Chamizo, director of the Brussels office
Gómez-Acebo & Pombo, represented by Miguel Troncoso, lawyer / partner
Joseba Arriortua, Personal partner
LaLiga, represented by Andrea Oriol, delegate BENELUX
Conle Finance, represented by Juan Rodríguez-Villa, delegate administrator
Atrevia, represented by Ángel Rebollo, director of the Brussels office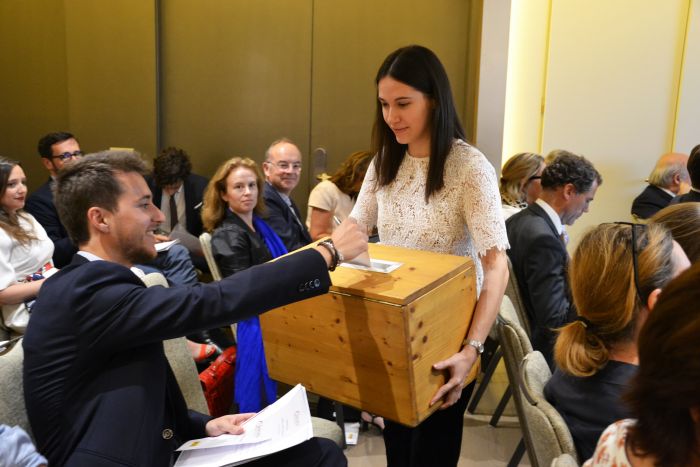 The Ambassador of Spain in Belgium expressed her gratitude to all the Spanish companies for representing a solid and fundamental business network for the Spanish economy. She also stressed that the heads of mission should support companies to overcome difficulties and expressed interest in keeping permanent contact with companies and support them in their activities developed in BeLux.
Lastly, the President of the Chamber thanked the Secretary General and her team for the work they have been doing. To close the Assembly, the attendees could enjoy a cocktail.
The Ordinary General Assembly 2019 documentation will be available to members through the Intranet of the Chamber.