Benefits of being membership of the Mobility Plan
If you are a company in Belgium or Luxembourg and you would like to be member of the Mobility plan, you will have the opportunity to:
Count with young people with specific skills adapted to your business' needs.
Have young people with the right attitude and motivation to embark on a new challenge abroad.
Participate in a program managed by the Chambers of Commerce with a great social impact and committed to youth employability and the productivity of companies.
Obtain the seal of company committed with young employment in recognition of it's committed to youth.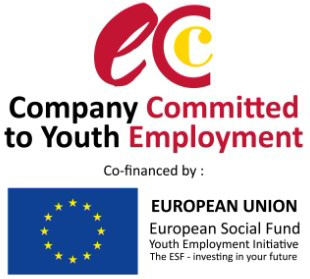 The Mobility Plan of the Integral Qualification and Employment Programme (PICE) is a programme created by the Chambers of Commerce's network of Spain and co-financed by the European Social Fund. This programme is part of the Entrepreneurship Strategy and Youth Employment that is part of the National Youth Guarantee System of Spain, an initiative of the Ministry of Employment and Social Security of Spain.
The Mobility Plan is being implemented by the Spanish Chambers' network and its principal aim is provide personal and professional development's opportunities to the young people joining the programme and, at the same time, to boost the productivity to the companies affiliated.
Together for youth employability
Through the Mobility Plan, the Spanish Chambers of Commerce in the European Union collaborate with the Chamber of Commerce of Spain and the Spanish Chambers' network. The objective: to contribute to the improvement of youth employability thanks to training for their personal and professional development.
| | |
| --- | --- |
| Request information | Visit our webpage and sign up |
| | |
Local Contact Point:
Official Spanish Chamber of Commerce in Belgium and Luxembourg
Rue Belliard 20, 1
1040 Brussels
Contact person in Belgium and Luxembourg:
Ángela Ustárroz
Angela.ustarroz@camara.es
For more information:
www.programapice.es/empresa/plan-de-movilidad