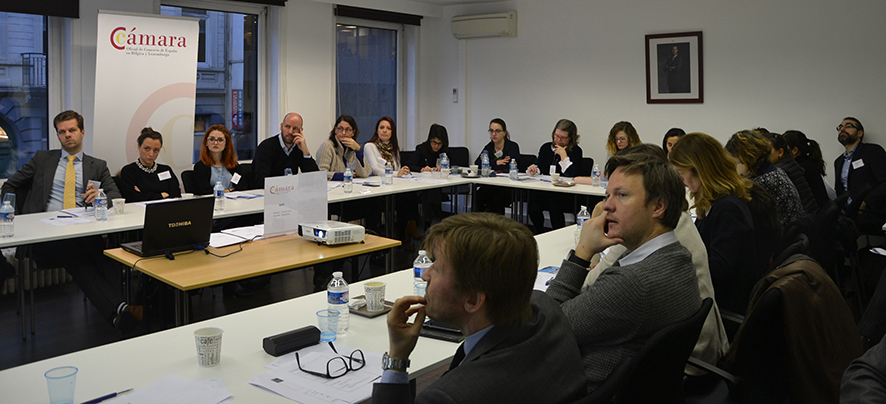 The past 18th January 2018, the Official Spanish Chamber of Commerce in Belgium and Luxembourg organized in their headquarters a breakfast-conference about the new measures on labour law and tax law in 2018. The event was organized in collaboration with  Group S Business portal & accredited payroll provider and the law firm van Cutsem Wittamer Marnef & Partners. 
The first speaker was  Hugues Thibault, head of Group S' International Department, who spoke about the new measures related to the Belgian labour law for 2018. During his presentation, he explained different topics related to it such as:
Reduction of labour cost : reduced social security contributions
Posting of employees : obligation to appoint a liaison officer
Profit sharing bonus : possibility to grant bonus not heavily taxed
Mobility allowance : returning his company car against cash
New notice periods in case of dismissals
IT tools used for personnel purposes: new social and fiscal treatment
Afterwards, Alain Vanderstraeten, lawyer and tax partner at van Cutsem Wittamer Marnef & Partners, explained the agreement reached by the Belgian federal government about the 2018-2020 tax reform package. Various of those tax measures are related to corporate tax. He highlighted the following ideas:
Decrease of corporate income tax rate
Minimum corporate income tax
Capital gain on shares
Withholding tax on capital decrease
Notional interest deduction
Tax consolidation
La Cámara agradece la alta participación de asistentes y la colaboración de Group S y el bufete de abogados van Cutsem Wittamer Marnef & Partners, que contribuyeron a que el evento fuese todo un éxito.
The Chamber would like to thank the big participation of the attendees and the collaboration of Group S and an Cutsem Wittamer Marnef & Partners, who contributed to the great success of this event.
In collaboration with: