Company: BAAB Consulting
Internship Tutor: José María Cruz
Graduate Trainees: Laura Matute Vasquez, Isabel García López
"The results of our participation in the PICE programme were magnificent. I highly recommend it."
The Mobility Plan of the Integral Programme for Qualification and Employment (PICE) is a programme managed by the Official Spanish Chamber of Commerce in Belgium and Luxembourg in the two countries. The programme, created by the Spanish Chamber of Commerce and co-financed by the European Social Fund, offers young Spanish graduates the possibility to live a professional experience in another EU country for a period of 3 or 6 months.
BAAB Consulting, a Brussels-based consultancy firm dedicated to the financing of EU projects and policies, as well as international relations, cooperation and development, is one of the companies participating in the programme in Belgium. The founder of this consultancy, José María Cruz, has recently hosted two Spanish graduate trainees, Laura Matute and Isabel García. In this interview, the three of them offer more information about their experience and encourage other companies in Belgium and Luxembourg to take advantage of this opportunity provided by the PICE scholarship programme.
Company experience
Why did you decide to host in interns through the PICE Programme? What do you think Spanish interns can bring to your company?
José María Cruz: "We already have experience participating in other mobility programmes managed by the Official Spanish Chamber of Commerce in Belgium and Luxembourg and it has been always very positive. PICE arose as a new opportunity to incorporate people into the team who approach the projects we develop from a different point of view. International relations and cooperation are two fields in constant change and approaching them from different perspectives and incorporating people with specific knowledge on issues such as gender or conflict resolution is very important".
How was the reception process and the settlement of the interns?
J.M.C.: "We are a small organisation, so the adaptation is usually easy. In these two cases, it was exceptional.
Which were the tasks carried out by the interns during their stay in the company?
J.M.C.: "Their main functions have been the formulation of projects, the implementation of integration and citizen participation activities, and the presentation of our initiatives to institutions from the European Union and international cooperation donors. This has allowed them to combine their work at our headquarters in Brussels with some trips to other European countries where events and meetings were organised".
Did having an external vision bring any innovation to the company?
J.M.C.: "We deal with a wide range of topics: gender, Youth, sport, territorial, development… so external visions and new approaches are always important and necessary to address them. The interns arrive well prepared and with plenty to things to offer".
How did you find out about this mobility programme? Would you recommend the PICE Programme, and would you repeat the experience?
J.M.C.: "We found out about it through the Official Spanish Chamber of Commerce in Belgium and Luxembourg, which introduced us to it. The handling of the process was quick, not very cumbersome, which is always appreciated. And the results were magnificent. I highly recommend it."
Which aspects of the programme and mobility could be improved?
J.M.C.: "The economical endorsement of the scholarship could be higher."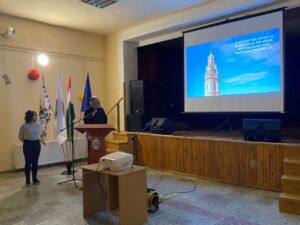 Experience of the Spanish graduates
What would you highlight the most about this experience on a personal and professional level?
Laura Matute Vasquez, Isabel García López: "Professionally, we would highlight the opportunity to acquire and perfect skills and knowledge in the field in which we want to specialise, as well as to understand first-hand how European institutions work. We also learnt thanks to our participation in networking spaces, events, and conferences on topics of interest. Similarly, this experience has allowed us to develop a high degree of autonomy and Independence in project Management, improving our decision-making capacity and the acquisition of responsibilities.
On a personal level, we would highlight the fact that this experience has allowed us to live in an international city, to meet people with similar concern to ours, but coming from diverse countries with different cultures. We have been able to enjoy the constant cultural offer that Brussels has to offer, as well as the ease of travelling throughout Europe."
Is the way of working different in Belgium? Did you find it difficult to adapt?
L.M.V, I.G.L.: "Adapting to the way of working in our company has not been an effort for either of us. The team is small, and that allows us to coordinate easily. There has been no culture shock in this respect. On the other hand, we are constantly having meetings with very different organisations and agencies from diverse countries, so it is important that we understand each other's structure and way of working.
However, it is important to note in this aspect that, thanks to working in this company, we have developed a more open mind to adapting and accepting other business cultures."
Do you think that the offer of companies in the programme is adequate?
L.M.V: "Yes, I think so. During the internship search I could see that there were offers in a wide range of fields and positions. I found an internship company quickly and in accordance with my job profile."
I.G.L: "I got to know the programme through a friend and the company itself, through colleagues in common. Although this meant that I did not have to carry out a detailed search through the programme 's range of companies, it also demonstrates the success of the programme by becoming a reference among people and companies."
What do you think that could be improved? Has the mobility met your expectations?
L.M.V, I.G.L.: "We think that the financial remuneration could be improved, as it is not in line with the living standards in Brussels. It could also be complemented with a language course and offer the possibility of extending the contract and the scholarship for up to one year."
If you are interested in participating in the PICE programme, please send an email to Sara Sánchez (info@e-camara.com).