Online Breakfast-Debate with Dolors Montserrat, MEP of the European People's Party and President of the Committee on Petitions of the European Parliament
Last Friday April 16th 2021, the Official Spanish Chamber of Commerce in Belgium and Luxembourg organised a new virtual breakfast-debate in the framework of its "Breakfast with the European Parliament" framework, a platform to bring European Parliament debates closer to our companies. Dolors Monserrat, MEP of the European People's Party (EPP) and Chair of the Petitions Committee, took part in the debate.
The topic of the breakfast was "The priorities of the European People's Party for this legislature".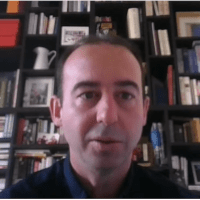 Pablo López Álvarez, Vice-President of the Chamber and moderator of the event, welcomed and briefly introduced the speaker and thanked her and all the attendees for their presence.
Dolors Monserrat first briefly addressed the priority of health and jobs and their complementarity for the European People's Party. She stressed that Europe is experiencing the greatest crisis since the Second World War and that the EU needs to work resolutely to overcome the consequences of this crisis. The objective of the EU action and the strategy led by the EPP is to limit the economic and social impact of the crisis as much as possible.
Then, Dolors highlighted the different priorities of the EPP parliamentary group. These priorities include first the health field, followed by the economic field with decisive support for the most affected sectors (industry, tourism, SMEs, etc.) and promoting Europe's leadership in the world during the current crisis.
She also underlined the enormous importance of the European recovery funds for Spain in order to face a new industrialisation (R&D) and modernisation of its economy. She also stressed the importance of stable job creation for a successful economic recovery for all Member States.
During the Q&A session, attendees were able to express their doubts and comments on numerous issues of interest. Thus, topics such as doubts about the vaccination plan in Spain, the elimination of inequalities for people with disabilities in the management of medical data (Big Data) or the difficulties encountered by Spanish companies in finding information on available European funds were discussed.
From the Official Spanish Chamber of Commerce in Belgium and Luxembourg we would like to thank Dolors Montserrat and all the attendees for their participation.
https://e-camara.com/web/wp-content/uploads/2021/03/dolors.png
340
888
Cámara Oficial de Comercio de España en Bélgica y Luxemburgo
https://e-camara.com/web/wp-content/uploads/2020/04/Logo-Web1-300x115.png
Cámara Oficial de Comercio de España en Bélgica y Luxemburgo
2021-04-16 15:20:12
2021-04-16 15:31:31
Online Breakfast-Debate with Dolors Montserrat, MEP of the European People's Party and President of the Committee on Petitions of the European Parliament