On January 18th, 20th and 25th, the Official Spanish Chamber of Commerce in Belgium and Luxembourg organized the professional networking forums StartCraft, Co-innovating for the future of crafts, in the framework of the European project StartCraft, with the presence and participation of renowned artists and craftsmen from Belgium and Luxembourg, specialized in a wide range of sectors.
StartCraft is a project funded by the European Erasmus+ programme, whose main objective is to develop and offer training and practical education in entrepreneurship and business management for artisan entrepreneurs. For this reason, and in order to ensure that these online training courses are adapted to the real-life challenges faced by artisans and craftworkers, the project launched these meetings with the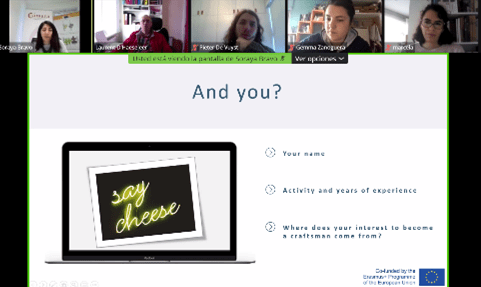 collaboration and intervention of craft professionals.
During these sessions, the participants were able to learn more about the project in detail, as well as to put forward the difficulties they had to face when starting their own business. They also exchanged views with StartCraft managers on training, tax issues, customer acquisition methods and how Covid has affected them.
The Chamber thanks all participants for their testimonials and advice.
Find out more about the program here.