On November 25th, the Official Spanish Chamber of Commerce in Belgium and Luxembourg participated in the SME Open Day in Luxembourg during the European SME week. This annual initiative, coordinated by the European Commission, aims to highlight European SMEs by promoting entrepreneurship and helping to create a more favourable environment for small and medium enterprises. This year, the event was again organised in person and provided SMEs in Luxembourg with information on entrepreneurship, business development and financing.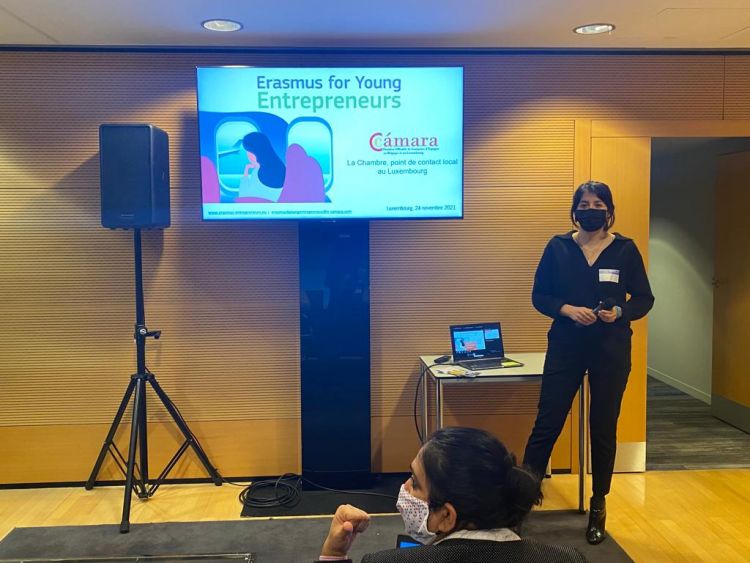 The participants of the event we welcomed by Sabrina Sagramola, Manager International Affairs & National Coordinator of the Enterprise Europe Network-Luxembourg at Luxembourg Chamber of Commerce, who encouraged them to make the most of the event and to networking among them and with the support organizations present in the event.
After that, participants had the opportunity to participate in the interactive conference/concert "Resilience Journey: how to turn threats into opportunities?" with Alain Leduc, CEO of Créativores.
Additionally, different thematic conferences were organised to give participants specific advice on entrepreneurship, development and financing.
The Chamber participated in the "Demo corner" providing participants details on how to register and participate in the mobility programs for entrepreneurs and SMEs, Erasmus for Young Entrepreneurs and MobiliseSME respectively.
Finally, the event was closed with the intervention of the CEO – Director General of the Luxembourg Chamber of Commerce, Carlo Thelen, the Minister for the Middle Classes and Tourism of the Grand Duchy of Luxembourg, Lex Delles, the Representative of the European Commission in Luxembourg, Anne Calteux, the Luxembourg Member of the European Parliament, Christophe Hansen and the Deputy Head of Unit, Industrial Forum, Alliances, Clusters  of the European Commission, Crispin Waymouth. They all highlighted the importance of European projects and the Enterprise Europe Network for the SMEs that want to take their business at the EU level.
The Chamber thanks the Luxembourg Chamber of Commerce their invitation to the event and the opportunity to inform SMEs and entrepreneurs about the EU programs to support them.
For more information about: