Last 28th of June, the Official Spanish Chamber of Commerce in Belgium and Luxembourg celebrated its General Assembly Meeting, which took place at the Instituto Cervantes headquarters in Brussels. The meeting was attended by Ms. Cecilia Yuste, Ambassador of Spain in Belgium and Honorary President of the Chamber, and several members of the Chamber.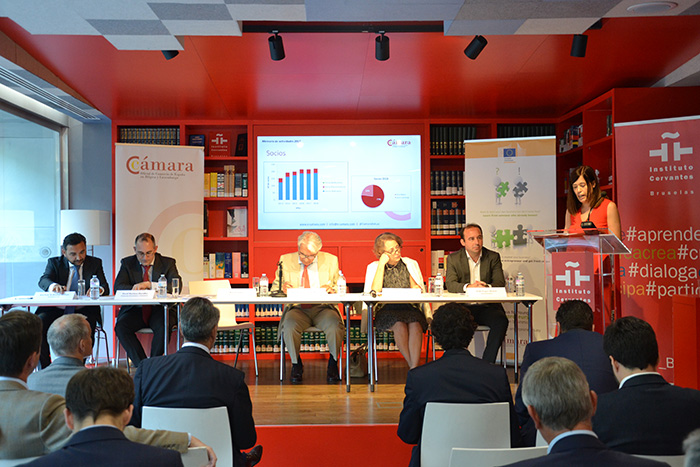 Juan Ródriguez- Villa Matons, President of the Chamber, welcomed all the attendees. He also exposed the gains achieved so far as well as the new targets and challenges that the Chamber will be this coming years.
At the same time, Juan Rodríguez- Villa reminded those presents the service vocation of the Chamber with the Spaniards living abroad.
After this introduction made by our president, the word was given to María Catalán, Secretary General of the Chamber.
María set the agenda of the Assembly and afterwards presented the Chamber activities report done during the last year, including courses, events, programs, and paying special attention to the Erasmus For Young Entrepreneurs program, to the Chamber job website and to the Commercial activities.
The services offered by the Chamber were reminded to the attendees. Besides, the expenditure and revenues figures, the income statement and account balance were detailly explained. After the approval of last financial year annual accounts as well as of the Board of Directors management, the Assembly gave in the last point of the agenda: the voting of the new spokesperson vacancies.
Once they all had been presented to the Audience, the Assembly proceeded to vote, resulting on the election for a new three- year term of the following members: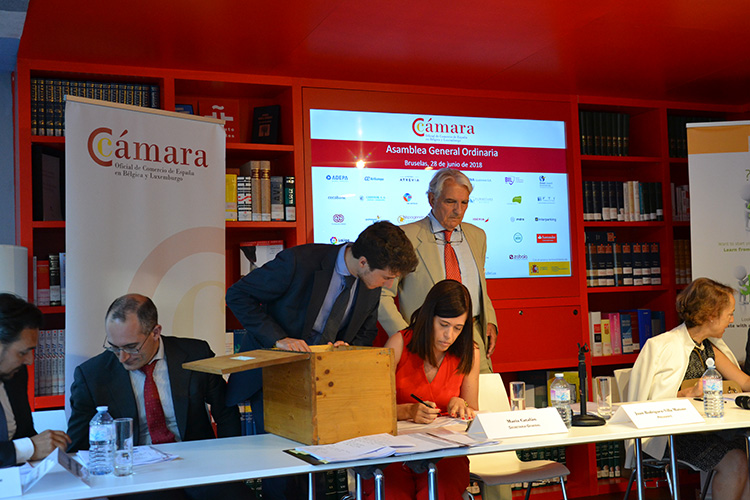 BBVA, represented by Javier Arias, Group Head European Affairs
ArcelorMittal, represented by Asier Marquina, EU Institutional Affairs Manager
Everis Belgium, represented by Óscar Abril, Partner
José Luis Rodríguez Álvarez, in a personal capacity
Meteora, represented by José Gracia Barba, President
Racine, represented by Bert Dehandschutter, Lawyer
Santander Consumer Bank, represented by Manuel Menéndez Barrero, CEO- Managing Director
Sergio de Miguel Jesser, in a personal capacity.
The Ambassador, Ms. Cecilia Yuste thanked the work done by the Spanish companies and the chamber in the promotion of the commercial and cultural activity of Spain in Belgium. Once again, she showed the commitment of the Embassy and the willing to keep on working next with the Chamber in those activities that help to promote the image of our country abroad.
To close the Assembly, the attendees were greeted with a cocktail offered by Mediterránea, a member company.
All the documentation relative to the 2017 General Ordinary Assembly will be at all the members' disposal through the Chamber's Intranet.