Company: TM Grupo Inmobiliario
Person Interviewed: Pablo Serna Lorente
Position: Managing Director of TM Grupo Inmobiliario
Email: comunicacion@tmgrupoinmobiliario.com
Website: www.tmgrupoimobiliario.com
From being a family business, TM Grupo Inmobiliario has gone on to conquer different international markets. What are the milestones of this evolution?
It was a matter of vision. My father, who founded the company in the year 1969, had a natural intuition to capture trends and needs. He quickly saw the potential that existed in the second home sector on the Spanish coast and in the international market, specifically the European one. The Mediterranean represented a place where they could come to enjoy their vacations with ideal conditions: an extraordinary climate, quality of life, geographical proximity and good connections.
In the 1980s,  we developed the first second home projects. At that time, the Spanish market had a greater weight than the foreign market, which was already beginning to grow. Thus, in parallel, we began an important expansion with the opening of branches in various parts of Spain and Europe. We have always had a very strong customer orientation, focusing on customer's needs in order to offer solutions adapted to their expectations. That has been one of the keys to conquering the international market.
Since then, the evolution has been progressive. In the 90s, we established ourselves as specialists in the sector with the development of large tourist-residential projects. In 2000, we began the process of international expansion accompanied by a stage of growth and leadership with territorial implantation throughout the Mediterranean. We consolidated ourselves as specialists of the international market, that now represents between the 70 and 80% of our business.
d
What are the challenges and opportunities that the Belgian market presents for the group? How does the company distinguish itself from other real estate companies with a similar profile?
Before the pandemic, Belgium was already one of the main markets for tourism in Spain. It comes 5th in volume in the Valencian Community and holds an important weight in other coastal regions, with about 28% of accommodation in second homes. For us, it has been the first international market, with a weight of 40% of total sales to foreigners in 2018 and 2019, and 31% since 2020 when the pandemic began.
The effects of the crisis have slowed activity, but with the easing of restrictions and vaccination progress, we are experiencing a progressive recovery. In fact, demand is returning strongly. Spain continues to be very attractive to the Belgian market, especially now that people can work from home. Our main challenge, as specialists in residential tourism, is to continue deepening our detailed knowledge of the needs of Belgian citizens. We are consolidating our local presence to increase proximity to the client and regain their confidence in Spain as a destination.
Our differential value lies precisely in our absolute customer orientation. We offer vacation resorts in the best coastal locations, expertise of more than 50 years working for international markets, and a wide range of services that ensure the client does not have to worry about anything: customization and equipment, maintenance, support in financing, support to make the investment profitable, etc.
d
Which areas are most sought after by Belgian clients? Do they choose Spain for their first residence or second residence? And, have these trends changed due to the pandemic?
In our case, the Coast of Almería stands out at the top of the list, accounting for 70% of sales. Specifically, our residential Mar de Pulpí, located in San Juan de los Terreros, is a case of unprecedented success. It is visited every year by thousands of Belgians who come to enjoy the facilities of the residence with the feel of a Mediterranean town. We are talking about more than 600 families of Belgian origin that have formed a very stable, consolidated, dynamic and continuously growing colony. After Almería, the Costa Blanca stands out with about 30%.
Regarding preferences, 82% buy a home as a second holiday residence, while only 3% purchases it as their first home. We are talking about a client profile with an average age of 54 years who prefers semi-detached houses with 2 bedrooms and has an average budget close to € 200,000.
d
Regarding future investments, where and how have you established your strategies?
Our focus is to continue growing in the traditional areas in which we are already present, to remain a leading player on the Costa Blanca and in Almería with Mar de Pulpí, and to continue consolidating our presence in areas relevant to residential tourism, like Mallorca and Costa del Sol.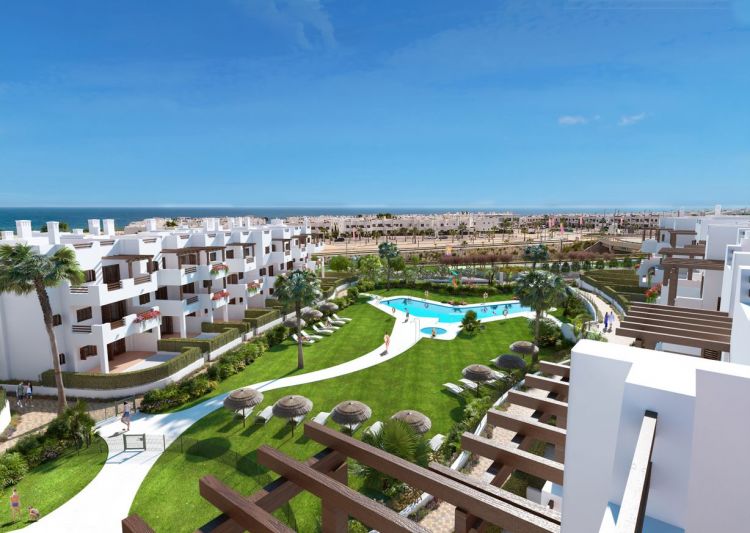 On the other hand, we have an exciting challenge for 2021. We want to be closer to our international clients by establishing our own offices in our main reference countries, including Belgium, to bring our products and services closer together in a more personalized way. Providing a consistent customer experience and across all channels is the great challenge for all companies that want to remain competitive in the current context.
d
What benefits does its membership of the Chamber provide the company?
We rely on the Chamber both to receive essential advice and support throughout the process of establishing ourselves in Belgium, and to make our presence visible in the country. The different services it offers will undoubtedly have a very positive impact on our business activity, improving our competitive position. I believe that going hand in hand with the Chamber is an added value for any Spanish company that wants to position itself in the market due to credibility, experience, network of contacts and the wide range of services available to members.