Breakfast-debate with Cristina Lobillo, Head of Cabinet of the European Commissioner for Climate Action and Energy
On 15 September 2015, the Official Spanish Chamber of Commerce in Belgium and Luxembourg organized a breakfast-debate with Cristina Lobillo Borrero, Head of Cabinet of the European Commissioner for Climate Action and Energy, who spoke about "COP 21 and the Energy Union".
The event started with the intervention of Pablo López Álvarez, Vice-president of the Chamber of Commerce, who thanked the speaker for her participation and exposed her large background and experience in the fields of climate and energy.
Cristina Lobillo started her intervention by highlighting the importance of the speech pronounced a week ago by Jean-Claude Juncker, President of the Commission, where he explained the important value of the conference that will take place at the end of the year: COP 21.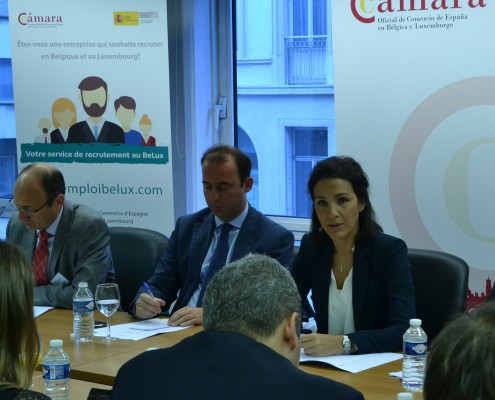 The speaker supported the President´s message, and explained that COP 21 is only the beginning of a long way that pretends to put to an end, gradually but constantly, the emissions, not only in the EU but worldwide.
The conference, that would replace the Protocol of Kyoto, proofs the desire and international commitment to achieve an agreement in the energetic field. Leaded by the European Union, the mentioned agreement would fight for the reduction of the emissions from now to 2030. Mrs Lobillo explained that it was an ambitious plan with renewable, dynamic and long term objectives.
At the end of the event, there was an open debate where participants had the chance to discuss about COP 21 and the European migrant crisis, as a consequence of the climate change.
The Chamber praises the success of the luncheon-debate and would like to thank the attendees for their collaboration.
https://e-camara.com/web/wp-content/uploads/2015/09/desayuno_debate_cristina_1.jpg
766
1500
Cámara Oficial de Comercio de España en Bélgica y Luxemburgo
https://e-camara.com/web/wp-content/uploads/2022/05/Camara-logo-web-300x123.png
Cámara Oficial de Comercio de España en Bélgica y Luxemburgo
2015-09-15 14:52:34
2016-03-04 08:27:55
Breakfast-debate with Cristina Lobillo, Head of Cabinet of the European Commissioner for Climate Action and Energy