Luncheon-debate with Kristalina Georgieva
The 20th of March, 2014, the Official Spanish Chamber of Commerce in Belgium and Luxembourg organised a luncheon-debate in Brussels with the European Commissioner Kristalina Georgieva about the topic: "Public Private Partnerships in the area of crisis response – the business case for cooperation".
The event started with the intervention of the President of the Chamber, Mr. Juan Rodriguez-Villa, who welcomed the guests and thanked them for their support. Mr. Rodríguez-Villa highlighted Mrs Georgieva's Curriculum Vitae, both education and experience, emphasizing her humanitarian work in countries in conflict. Mr. Juan Rodríguez-Villa ended his intervention by informing about the Chamber's new project "Programa Jóvenes BeLux", which focuses on providing support to young Spaniards who are living in Belgium and Luxembourg, in their aim to get a job.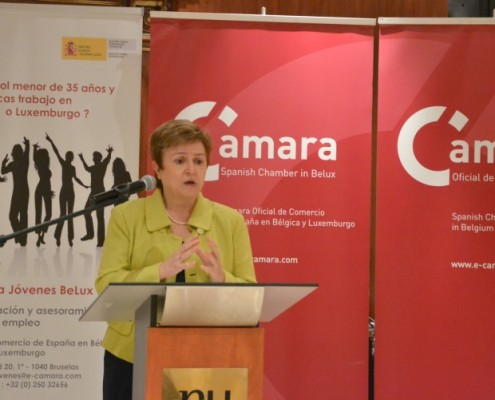 The event continued with the intervention of the Commissioner Georgieva. She made an introduction in which she showed her and her partner's vision of the world's situation nowadays. Within this introduction, Mrs. Georgieva highlighted the consequences of natural disasters in recent decades and the conflicts that occurred recently, most of them unexpected. Ukraine, Syria and the Central African Republic were some of the examples used by the Commissioner.
The European Commissioner regretted the slow humanitarian aid delivery in some cases, such as in Syria. She was also concerned about how Europe sometimes only cares about conflicts such as Ukraine but quickly forgets about others as important as the Philippines, Syria, South Sudan and the Central African Republic.
Commissioner Kristalina Georgieva emphasized the need of being aware of this in order to have a better response to the crises. We must anticipate them. She also pointed out that they must continue allocating resources to combat natural disasters, and also to invest in preventing the conflicts appeared in recent years.
The Commissioner highlighted the importance of the private sector by financing humanitarian aid in countries like the Philippines, where 25% of the funding came from the private sector.
Kristalina Georgieva concluded her intervention by emphasizing the role of the European Commission in conflicts resolution, meantioning measures such as investing in more resources to prevent natural disasters or by organizing round tables to encourage the discussion of these issues.
Mrs. Georgieva closed her intervention by expressing her pride of representing the portfolio of development cooperation and humanitarian aid. She also stressed that help from Europe in these issues is beneficial worldwide, which helps to improve the image of EU Institutions and its citizens abroad.
[AFG_gallery id='26']
https://e-camara.com/web/wp-content/uploads/2015/06/portada-e1395332420313.jpg
501
900
Cámara Oficial de Comercio de España en Bélgica y Luxemburgo
https://e-camara.com/web/wp-content/uploads/2020/04/Logo-Web1-300x115.png
Cámara Oficial de Comercio de España en Bélgica y Luxemburgo
2014-03-20 08:35:48
2016-03-16 13:59:10
Luncheon-debate with Kristalina Georgieva