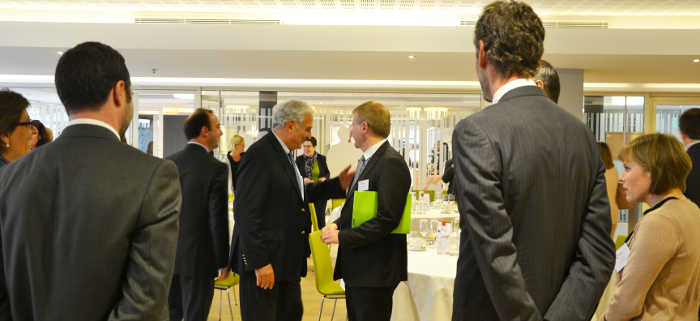 Luncheon-debate with Arūnas Vinčiūnas
Arūnas Vinčiūnas (8th of June 1967, Rudnia, Lituania), Head of Cabinet to European Commissioner for Health and Food Safety Vytenis Andriukaitis, was the special guest on 23 April at the luncheon-debate organized by the platform "Business Community" of the Official Spanish Chamber of Commerce in Belgium and Luxembourg. Among more than 50 attendees, representatives of the Spanish public institutions, directors of international companies and lobbies from the sector were present.
The president of the Chamber, Juan Rodríguez-Villa Matons, was in charge for introducing Arūnas Vinčiūnas, by emphasizing his long professional career as head of European projects that he started a bit after the independence of Lithuania from USSR in 1990 and later he worked for the Lithuanian Embassy in Spain.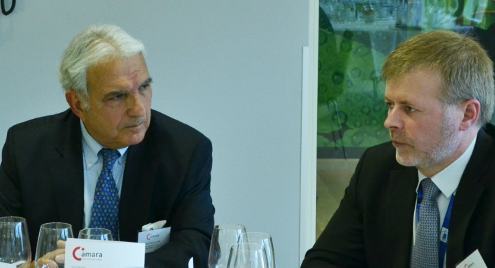 Arūnas Vinčiūnas dedicated much time during his statement to talk about all important aspects for the new Commissioner for Health and Food Safety, including controversial subjects like the Genetically Modified Organisms (GMO's). According to Arūnas Vinčiūnas, Europe has the best food system and the best food safety, although perfection has not been reached yet and it is necessary to keep growing in that field. Therefore, he highlighted the importance of combining food and health, because it is obvious that the consumption of bad quality products is a risk for human health. Arūnas Vinčiūnas is sure that it is necessary to give this message to the other member states in order to make them understand the importance of a good health to prevent chronic diseases. "We need to help the European Ministers to understand that inaction or not enough action means huge economic costs for the medium and long-term. The life expectancy is increasing and this might be a major problem for the finances of the member states", he affirmed.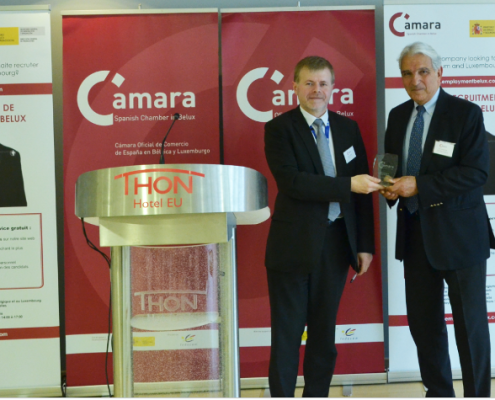 The Head of Cabinet to European Commissioner neither wanted to avoid the most conflictive and first priority issues, like the case of Xylella fastidiosa bacteria that affects most of the Italian olive-trees and nowadays it does not have a solution yet. In his speech, as well as during the question time, Arūnas Vinčiūnas emphasized the will of the Commissioner to find a remedy for the problem as soon as possible and prevent that the bacteria might spread in other countries like France.
At the end of the debate, Juan Rodríguez-Villa, on behalf of the Chamber of Commerce, gave a price to Arūnas Vinčiūnas in recognition of his work within the department of Health and Food Safety and to acknowledge his presence at the luncheon-debate.
The Chamber praises the success of the luncheon-debate and would like to thank the collaboration with the sponsor, Atos Worldline.
The president accorded a particular attention to the company Pernod Ricard, sponsor of the wine at the event.
[AFG_gallery id='27']
https://e-camara.com/web/wp-content/uploads/2014/04/061.png
467
700
Cámara Oficial de Comercio de España en Bélgica y Luxemburgo
https://e-camara.com/web/wp-content/uploads/2022/05/Camara-logo-web-300x123.png
Cámara Oficial de Comercio de España en Bélgica y Luxemburgo
2015-04-23 09:02:21
2016-03-04 08:24:46
Luncheon-debate with Arūnas Vinčiūnas