Luncheon-debate with Kerstin Jorna, Director General for Internal Market, Industry, Entrepreneurship and SMEs DG Growth
Yesterday, Thursday 28th April, the Official Spanish Chamber of Commerce in Belgium and Luxembourg held in Brussels a new luncheon-debate with Kerstin Jorna, Director General for Internal Market, Industry, Entrepreneurship and SMEs of the European Commission. The theme of the event revolved around the Fit for Future strategy of the EU, which aims to establish a roadmap for the creation of an industrially competitive Europe.
More than 70 participants attended the event, including Chamber members, business executives, delegates from the Autonomous Communities and representatives of Spanish and European organisations.

The event was inaugurated by Pablo López Álvarez, President of the Chamber, who thanked all those present for their attendance. He dedicated a few words of special recognition to the extensive career of the speaker, Jorna, and her long trajectory dedicated to the European project. López-Álvarez also highlighted the current complex geopolitical situation due to the war in Ukraine and the still lingering consequences of the pandemic and its effects on the industrial fabric of the Eurozone.
The President of the Chamber also introduced Toon Digneffe, board member of EUCOPE – European Confederation of Pharmaceutical Entrepreneurs, and sponsor of the event. Digneffe briefly introduced his organisation, Europe's leading trade body for innovative small and medium-sized enterprises working in the field of biopharmaceuticals and medical technologies. He also stressed the importance of continuing to build the European value chain through collaboration between the business community.
Internal market of the EU
Jorna dedicated her speech to a brief review of the consequences of the pandemic, the war in Ukraine and its implications for the internal market of the European Union. She stressed that the current context has served to identify the importance of a stable supply chain for Europe, which, according to her, must be based on collaborative ecosystems that take advantage of the EU's own resources.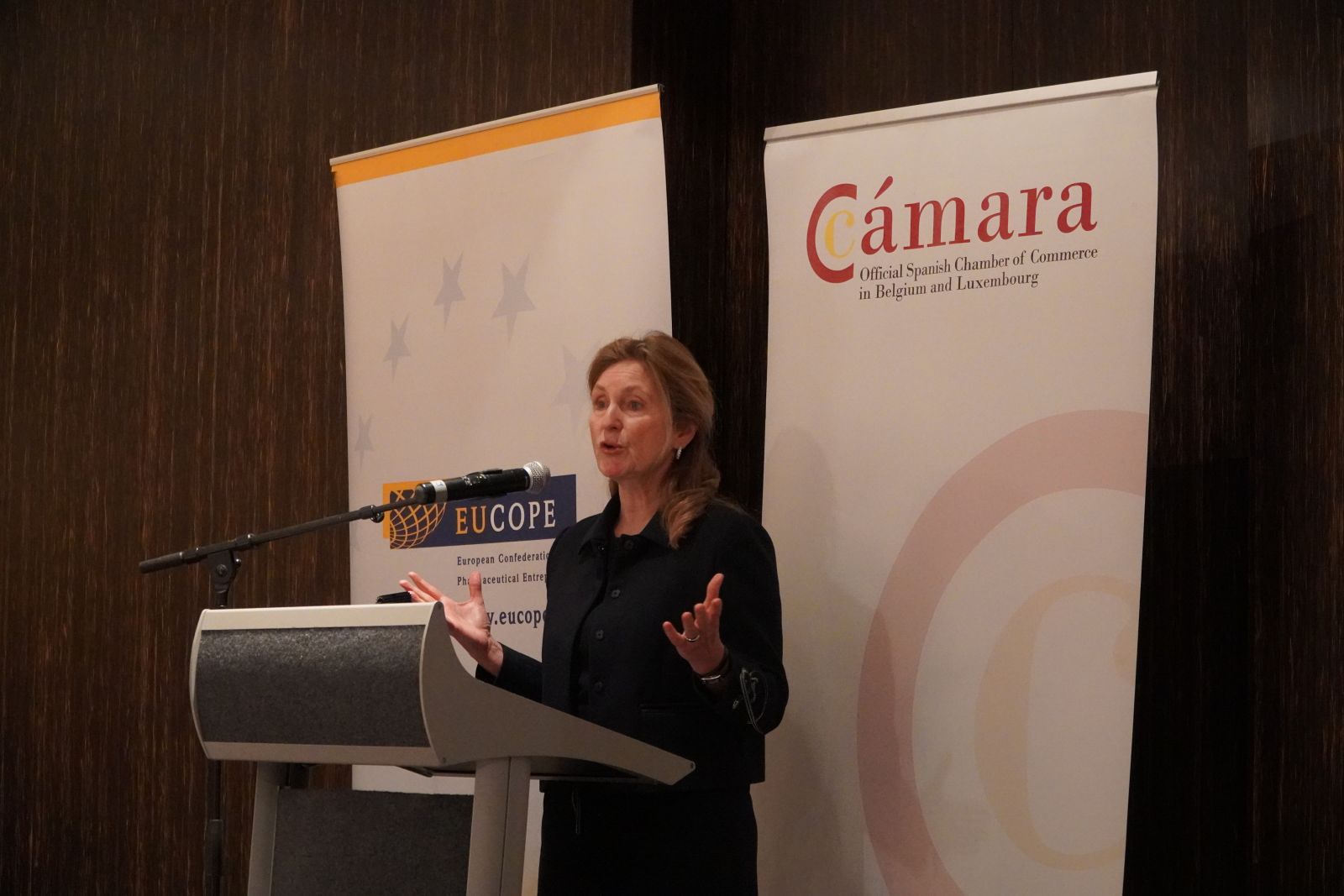 The speaker took the opportunity to affirm that European industrial policy is more necessary than ever, and that it must play a key role in the transformations that the European economic model must undergo in the coming decades. Jorna pointed out the importance of creating an excellent environment for attracting private capital, which will ultimately be the fundamental pillar for making possible the development of a new sustainable industrial and economic model for the future.
The presentation was followed by a question-and-answer session where participants were able to express their opinions and raise different issues related to the presentation.
From the Chamber we would like to show a special thanks to Bodegas Madrid Romero, whose wines "Vino Tinto Madrid Romero" and "3 Calas Sauvignon Blanc" could be tasted by all the attendees, as well as the participants, making this event a very successful luncheon-debate.
https://e-camara.com/web/wp-content/uploads/2022/04/DSC00883.jpg
1067
1600
Cámara Oficial de Comercio de España en Bélgica y Luxemburgo
https://e-camara.com/web/wp-content/uploads/2020/04/Logo-Web1-300x115.png
Cámara Oficial de Comercio de España en Bélgica y Luxemburgo
2022-04-29 14:00:09
2023-02-08 16:40:05
Luncheon-debate with Kerstin Jorna, Director General for Internal Market, Industry, Entrepreneurship and SMEs DG Growth