On January 29, the Official Spanish Chamber of Commerce in Belgium and Luxembourg organized a luncheon-debate with Rosa Aldea Busquets, Deputy Director-General for Budget of the European Commission. The event was attended by executives of Spanish companies, members of the Chamber and representatives of European organizations and regional delegations.
The Vice President of the Chamber, Pablo López Álvarez, opened the event by pointing out how important it is to organize a debate around the EU budget at this time, as a new round of negotiations will soon begin in order to approve the budget for the 2021-2027 period. The Vice President introduced the Deputy Director General highlighting her extensive curriculum and professional career within the EU.
Aldea dedicated her speech to inform of the budgetary developments proposed by the Commission and explained the main lines that will be discussed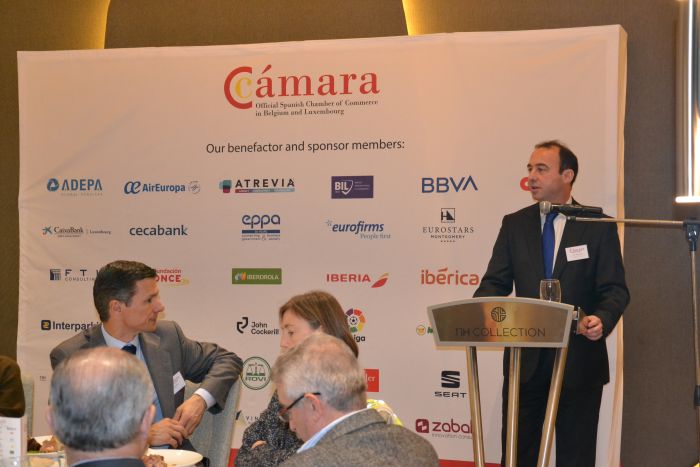 during the next negotiations, which will take place in February. Firstly, it is necessary to determine how much should be spent within the next 7 years, since, unlike a national budget, the budget of the European Commission is long-term, for it is dedicated to investment. Secondly, the priority areas must be decided, since the Commission is considering reducing resources dedicated to cohesion and agriculture policies in favor of new priorities, which are innovation, research, digital economy, youth, emigration and security. Thirdly, they deliberate how to finance these budgets: although the Commission's will is to rely more on its own resources, it is not easy to find means of collection that do not fall on European taxpayers, as is the case with customs fees; even so, the latest Commission proposal is to tax the use of plastics and CO2 emissions. Lately, the principle of excellence as a requirement when granting subsidies is being questioned, as it is a barrier that has so far excluded less developed European countries from receiving aid for innovation. Finally, the last proposal that the Commission approved on January 15 will also be deliberated: the Just Transition Fund, an instrument that would help to economically and socially restructure countries based on the coal and fossil materials industry, with the ultimate aim of reaching, in 2050, a Europe free of these resources.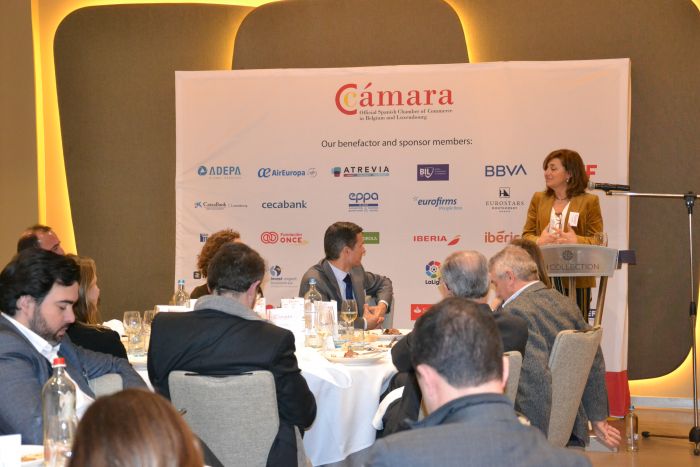 These are all key points whose disagreement -since unanimity is required-, together with the instability derived from Brexit, have caused a delay in budget execution. Aldea concluded her speech by emphasizing the problem that is that countries think at a national and non-European level; nevertheless, she transmitted the faith of David Sassoli, President of the European Parliament, that the EU budget will finally be approved in the negotiations next month.
After the presentation, a round of questions began, where the participants could raise their opinions and questions about all these new budgetary proposals of the European Commission.
From the Chamber we would like to express our gratitude to Bodegas San Antonio Abad, whose wines could be tasted by all attendees, and the participants for this successful luncheon-debate.