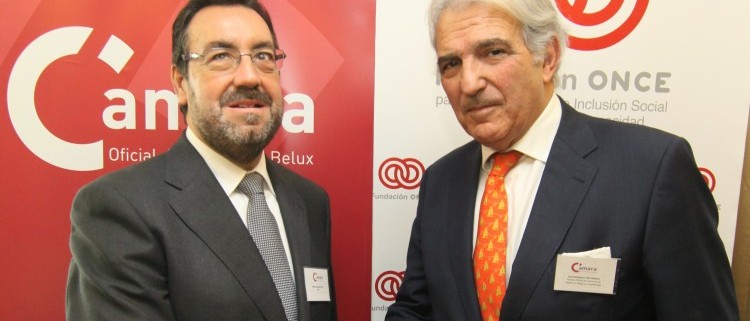 ONCE Foundation. Assessment of the "Added value of the ESF programmes managed by the ONCE Foundation since 2000"
The Official Spanish Chamber of Commerce in Belgium and Luxembourg was elected, for the second time, to frame a mission of the ONCE Foundation, during its visit to Brussels in the Hotel Sofitel Brussels Le Louise on 22 November 2011.
The chairman of the ONCE Foundation, Miguel Carballeda, was present at the event as well as the chairman of the Official Spanish Chamber of Commerce in Belgium and Luxembourg, Juan Rodríguez-Villa Matons. Luis Planas was the speaker of the ambassador of the Permanent Representation of Spain to the EU.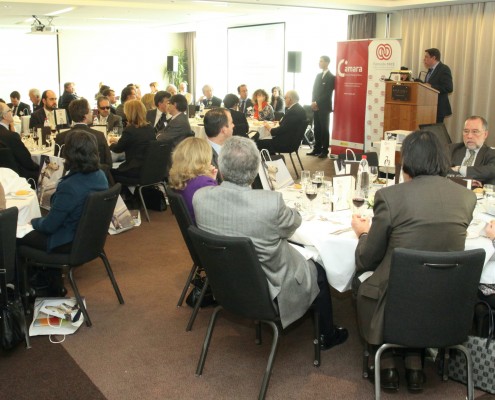 The ONCE Foundation is currently at the same time Spain's biggest private employer, carrying out various activities. As Juan Rodríguez-Villa Maton emphasized: "This organization is recognized for its importance in business, such as the social goals it pursues and achieves."
Along these lines, Mr. Carballeda pointed out that, although the situation of the citizens of the European Union has improved "the crisis in which we find ourselves and of which we hope it will gradually disappear is proof of the fact that we cannot relax our vigilance". Thus, he requested social and labor "to be a priority in future strategies of the European Union and that they devote sufficient resources."
Another present assistant of the Spanish ambassador to the Kingdom of Belgium was Silvia Iranzo Gutiérrez and the President of the European Disability Forum, Yannis Vardakastanis.
The main objective of the ONCE Foundation is transferring its organization model to the organizations in order to give a boost to the employees that are disabled."
[AFG_gallery id='20']
https://e-camara.com/web/wp-content/uploads/2015/11/IMG_1526-e1455113221895.jpg
375
750
Cámara Oficial de Comercio de España en Bélgica y Luxemburgo
https://e-camara.com/web/wp-content/uploads/2022/05/Camara-logo-web-300x123.png
Cámara Oficial de Comercio de España en Bélgica y Luxemburgo
2011-11-22 09:28:41
2016-03-10 14:21:56
ONCE Foundation. Assessment of the "Added value of the ESF programmes managed by the ONCE Foundation since 2000"