Presentation of the EYE and MobiliseSME programmes as part of the EU OPEN FOR BUSINESS day
On the 21st of October, the Official Spanish Chamber of Commerce in Belgium and Luxembourg participated in the event EU Open for Business which took place in Luxembourg.
This annual event, coordinated by the European Commission, aims to highlight European SMEs by promoting the business spirit and helping to create an environment more supportive for small and medium enterprises.
This edition was focused on the economic recovery post-coronavirus and how SMEs in Luxembourg can access to finance, find new business partners, and adapt for the future. This 2-day digital event presented the different EU programmes available for entrepreneurs and SMEs in Luxembourg. Additionally, the visitors had the opportunity to virtually visit the stands of the local supporting organizations and get first-hand information from their experts.
In the context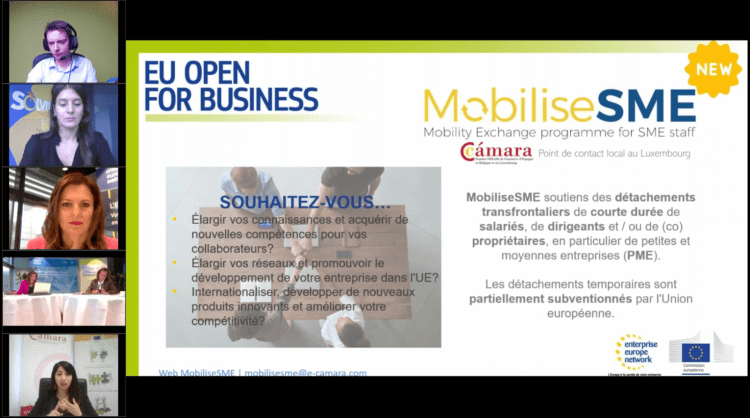 of the event, Soraya Bravo, Project Manager at the Chamber, presented the general objectives, requirements and registration process of the programmes Erasmus for Young Entrepreneurs and MobiliseSME.
She highlighted that both programmes offer a great added value for entrepreneurs and SMEs, such the exchange of knowledge and experience in the Erasmus for Young Entrepreneurs; or the possibility to boost the internationalization in the MobiliseSME.
Local organizations were very interested in promoting both initiatives and the participation of entrepreneurs and SMEs from Luxembourg, especially in the recently launched MobiliseSME programme.
They also stressed the opportunity that this crisis offers to small and medium-sized companies to reinvent themselves and internationalize, and invited them to take advantage of the European programs and projects at their disposal.
The Chamber thanks DG Grow, the Enterprise Europe Network and the Luxembourg Chamber of Commerce for the invitation and looks forward to collaborating with these institutions to promote both projects.
If you would like to receive more information about the program Erasmus for Young Entrepreneurs or MobiliseSME, please send an email to:
Contact people: Soraya Bravo | Noelia Sánchez Bravo
Email: erasmus4youngentrepreneurs@e-camara.com | mobilisesme@e-camara.com
https://e-camara.com/web/wp-content/uploads/2020/10/noticiaCamara.jpg
340
888
Cámara Oficial de Comercio de España en Bélgica y Luxemburgo
https://e-camara.com/web/wp-content/uploads/2022/05/Camara-logo-web-300x123.png
Cámara Oficial de Comercio de España en Bélgica y Luxemburgo
2020-10-22 16:20:30
2020-10-22 16:23:23
Presentation of the EYE and MobiliseSME programmes as part of the EU OPEN FOR BUSINESS day