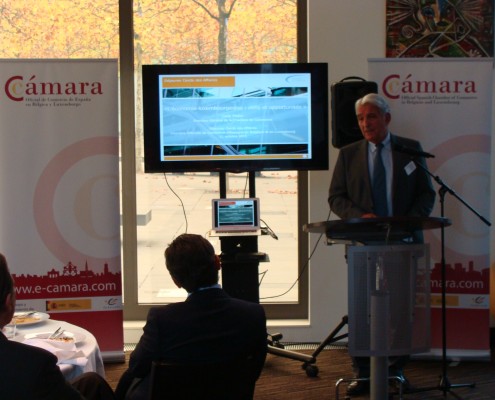 Last Wednesday, 21 October, the Official Spanish Chamber of Commerce in Belgium and Luxembourg organized a Luncheon-Debate in Luxembourg with Carlo Thelen, Director General of the Chamber of Commerce of Luxembourg. The event was attended by the Ambassador of Spain in Luxembourg, Carlos de Lojendio y Pardo Manuel de Villena, as well as representatives of European Institutions, members of the Chamber and corporate executives, among other participants.
The Luncheon started with the intervention of Juan Rodríguez-Villa Matons, President of the Official Spanish Chamber of Commerce, who welcomed the participants and Mr. Thelen for his collaboration, highlighting his professional career and the important role of the Chamber of Commerce in Luxembourg in the Grand Duchy.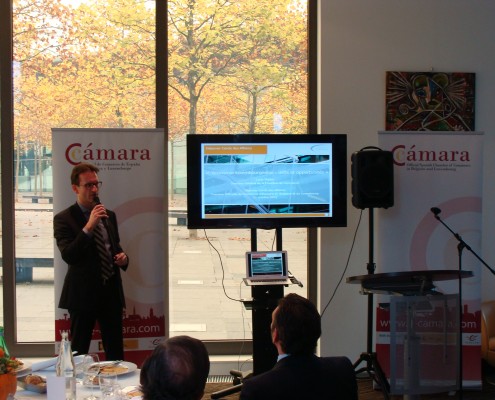 Carlo Thelen started his exposition introducing the current macroeconomic context, pointing out the oil falling, a historically low tax interest, an unconventional monetary policy and the depreciation of the euro. Then, the speaker focused in his speech on the bilateral economic relations between Spain and Luxembourg, as well as in the different trade promotion activities carried out by Luxembourg in Spain.
Afterwards, the President of the Chamber of Commerce of Luxembourg introduced the most relevant sectors and those with the highest investment potential in the Grand Duchy, such as finance, logistics, technological and communications sectors, and the Eco-technological sector.
Mr. Thelen finished his speech stating the challenges of the Luxembourgian economy. He provided public administration data about the growth and the politics the Government of Luxembourg is expecting to carry out in the upcoming years. Regarding this, he highlighted the strategy of the "Third Industrial Revolution" which is intended to be developed between the Chamber of Commerce of Luxembourg and the Government of Luxembourg.
After a round of questions among the attendees, the Economic and Commercial Counselor of the Embassy of Spain, David Martínez Hornillos, closed the event displaying economic bilateral data between Spain and Luxembourg, and pointing out the ability of the economy of Luxembourg to adapt to structural changes.
See Carlo Thelen's presentation