Last Friday, October 23rd, the Official Spanish Chamber of Commerce in Belgium and Luxembourg organized a new session of its online Breakfast-Debate in the framework of its Business Circle platform. This event featured Clara Martínez Alberola, Deputy Head of the United Kingdom Task Force (UKTF) of the European Commission. The topic of the debate was "Brexit: where are we heading in the future commercial relationship between the EU and the United Kingdom?". 
Pablo López Álvarez, vice-president of the Chamber and event moderator, welcomed and thanked the speaker and all the attendees for their participation.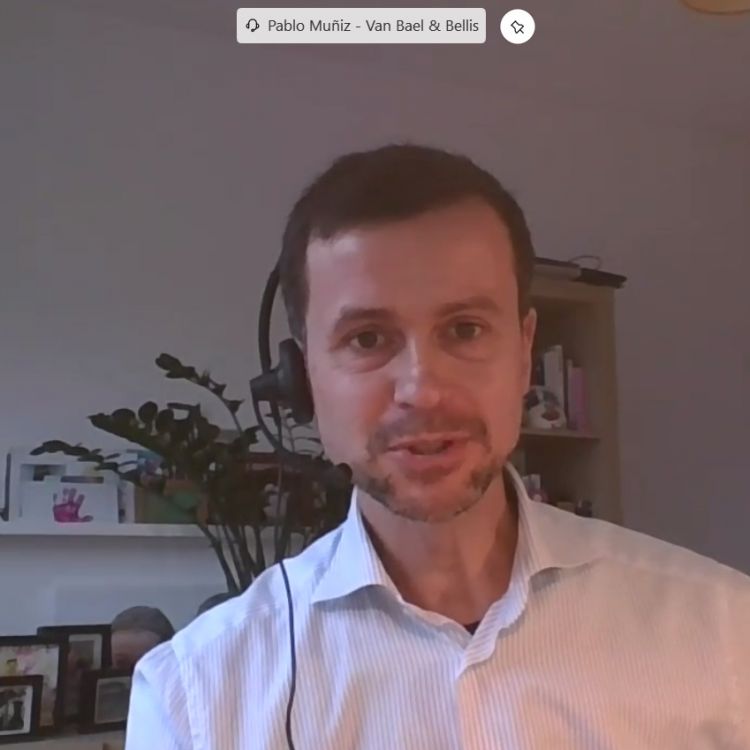 Then, on behalf of the partner and sponsor of the event, Van Bael & Bellis, Pablo Muñiz, partner of the Brussels office, took the floor and thanked the guest speaker for her participation in the Breakfast-Debate despite her busy schedule. Mr. Muñiz highlighted the growing importance regarding many customs law issues, that were thought to be forgotten, because of Brexit but will surely affect the future relationship between the United Kingdom and the European Union.
Clara Martínez Alberola began by thanking the invitation as an ideal opportunity to continue learning first-hand about the concerns of Member States and the various economic sectors in the Brexit negotiations. The speaker admitted that the negotiating teams are at a critical stage to achieve an agreement given that the transition period after the formal withdrawal of the United Kingdom from the European Union ends on 31 December 2020, with the aggravation of the Covid-19 crisis as a background. Despite the tight deadlines, the EU negotiating team is working tirelessly to reach a fair agreement for both parties based in coherent rules and effective mechanisms for dispute resolution. Martínez outlined the various issues that present more difficulties to reach an agreement as well as the issues where there is greater consensus such as British participation in research programs funded by the EU or police cooperation. Finally, the deputy head of the UKTF stressed that the no-deal scenario would not imply the impossibility of reaching such an agreement in the future in different areas, although it is certainly a much worse scenario than reaching a full agreement on time.
During the question time, the attendees were able to present their doubts and comments on many issues of interest such as the controversy surrounding the internal market protocol for Northern Ireland, the rules of origin in the post-Brexit era, the uncertainty regarding standardization and public procurement, financial supervision or the complexity of customs controls in the future relationship between the United Kingdom and the EU.
From the Official Chamber of Commerce of Spain in Belgium and Luxembourg we would like to thank Clara Martínez Alberola for her conference, our partner company Van Bael & Bellis for sponsoring this Breakfast-Debate and all those present for their attendance.
Event sponsored by:

https://e-camara.com/web/wp-content/uploads/2020/10/claraMartinez-1.jpg
340
888
Cámara Oficial de Comercio de España en Bélgica y Luxemburgo
https://e-camara.com/web/wp-content/uploads/2022/05/Camara-logo-web-300x123.png
Cámara Oficial de Comercio de España en Bélgica y Luxemburgo
2020-10-23 14:00:13
2020-10-23 16:04:33
Online Breakfast-Debate with Clara Martínez Alberola, Deputy head of the 'Task Force for Relations with the United Kingdom' (UKTF)